We've been noodling on a variety of Personal Protective Equipment (PPE) we could help with. There's been a big push internationally to try to replicate existing PPE like 3D printing N95 masks and attempting to clone forced air breathing systems – the challenge with these efforts is they're starting with an item that was designed for mass manufacturing and trying to go back to DIY fabrication methods. Jim went back to the drawing board to try to come up with the least expensive off the shelf parts PAPR he could come up with: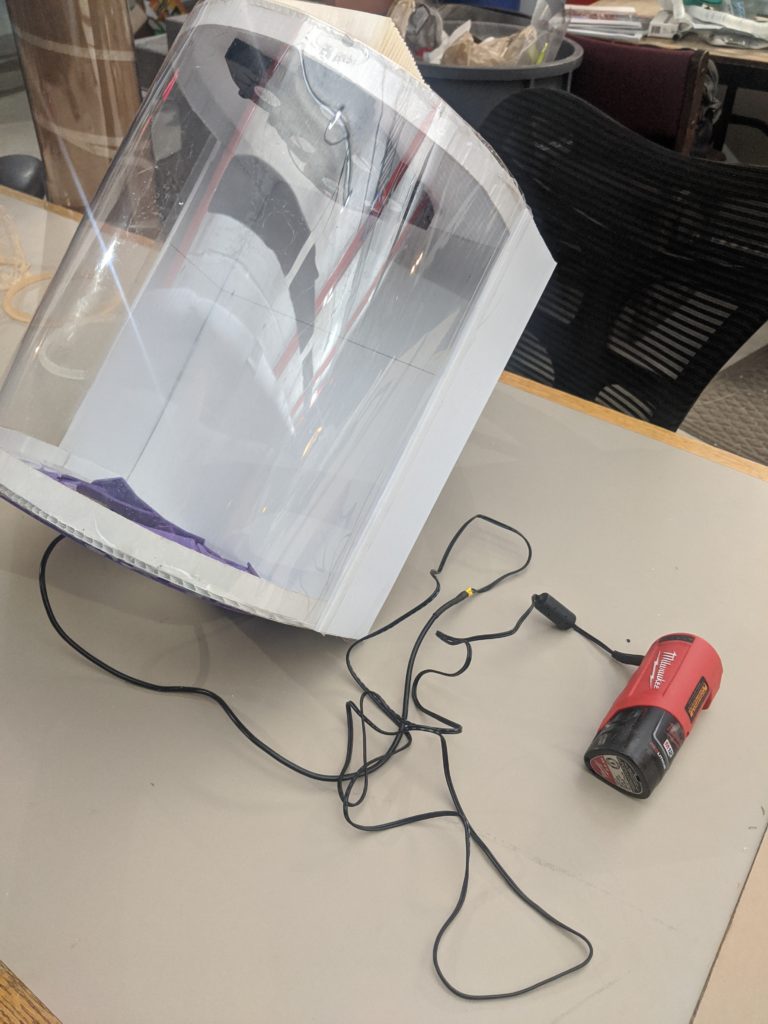 The basic components are a political sign, a 2 liter bottle, 3D printer centrifugal blower fans, a power tool battery pack/adapter, and an off the shelf HEPA rated vacuum cleaner filter. While this isn't the most beautiful creation, it fits the basic requirements of a PAPR in filtering air around your head and keeping contaminates away. One of the things missing is the hose – it's hard to source breathing rated hose and nailing the flexibility and smooth interior walls is difficult. If you use off the shelf hose it off-gasses plastic additives forever, it's what keeps the hose flexible.
We're using:
Main improvement would be to use a hard hat as the frame so it transfers the load off your shoulders and centers on your head. We wanted to use off the shelf and widely available materials but there's obviously room for improvement.
If they're helpful you can see teardowns of:
Miller 235672 PAPR / OTOS AirWings I pictures and circuit boards