Designer, Maggie Modena attended both the UW Madison for Textile and Apparel design and New York City's FIT for Accessory Design. Since Graduating she has gone on to design handbags for brands such as Nicole Miller, Lucky Brand, Jessica Simpson and Franco Sarto. After living in New York City Maggie moved back to her hometown of Madison, WI knowing that the cities support of local and sustainable art and entrepreneurship would fit perfectly with her focus on launching her own line.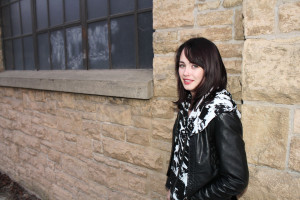 Sector67 was a natural fit for Maggie's ambitious new endeavor. But first she felt there was a real need for a sewing studio in which you could access as you needed it. After establishing the space at Sector67, she got back to working on her true love: handbags.
Maggie debated working with a formal factory to produce her handbags but ultimately felt that with her knowledge of leatherwork and construction, as well as having access to Sector67, that maintaining having a heavy hand in production was the best option. "I do all of the pattern making, laser cutting, gluing, embossing and other prep work and have it sewn in Milwaukee by a lovely couple who works out of a basement studio" says Welsh.
Sourcing her material was a bit of a quest, her leather is made in Milwaukee, the hardware from Ohio, but other harder to find materials she had to get crafty to find. When she could not locate a source for the "Stay Paper" she used as an internal reinforcer in the bags, she found a YouTube video that featured the material she needed and commented on it, and through that conversation secured a supplier for the evasive material.
Maggie has already accomplished her first goal, which was to "make the product with quality materials and with kind people which feels great." Adding, "I hope to someday make a living off this" This may not be far off as she as just reached another milestone in her career. February 14th will see the launch of her line of handbags at local boutique Iona. A Valentines Day Trunk Show will be going on from Noon until 3 o'clock at Iona (807 East Johnson Street). Maggie is currently working on expanding her product to other cities.