Sector67's February Show and Tell was a night of genuine professionalism and raw talent. The night was as social as it was informative as members and affiliates took turns showing their interests and creations. This month's Show and Tell covered Sector67's and East High school's collaborative effort of creating a robot to compete in FIRST's Techology Challenge, there was a very important live feed from Portland (from another hackerspace) and much more. Don't worry, we got it all for you right here.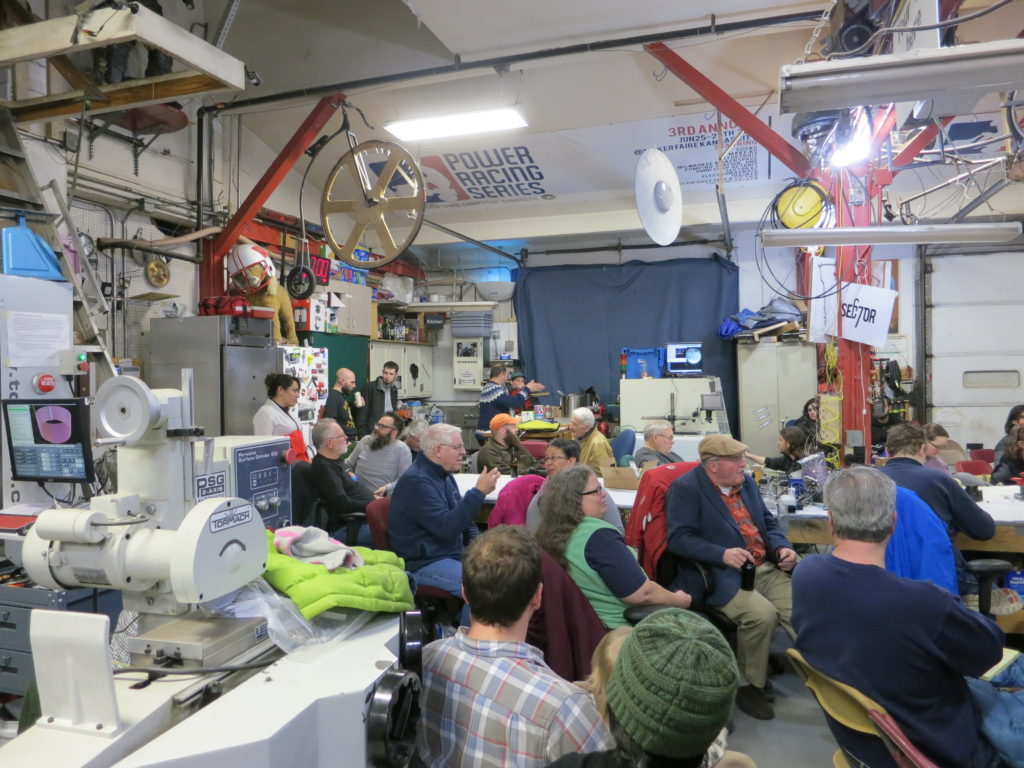 Liam, a junior from East High School, demonstrated the robot that Sean and Shira from Sector67 coached him and some of his schoolmates to build, program and operate for FIRST's Tech robot challenge this past january. Liam and Shira showed off some of the robot's capabilities to kick off February's Show and Tell.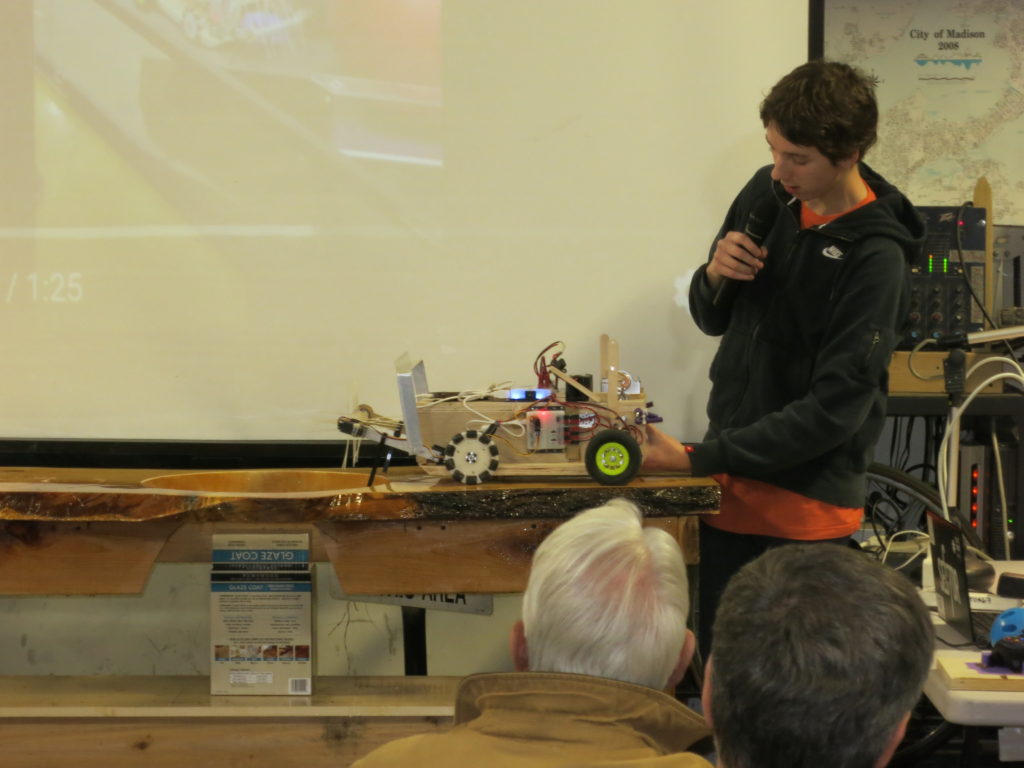 Here is Liam's robot in action as Liam describes how it shoots balls up the pictured ramp and down the side.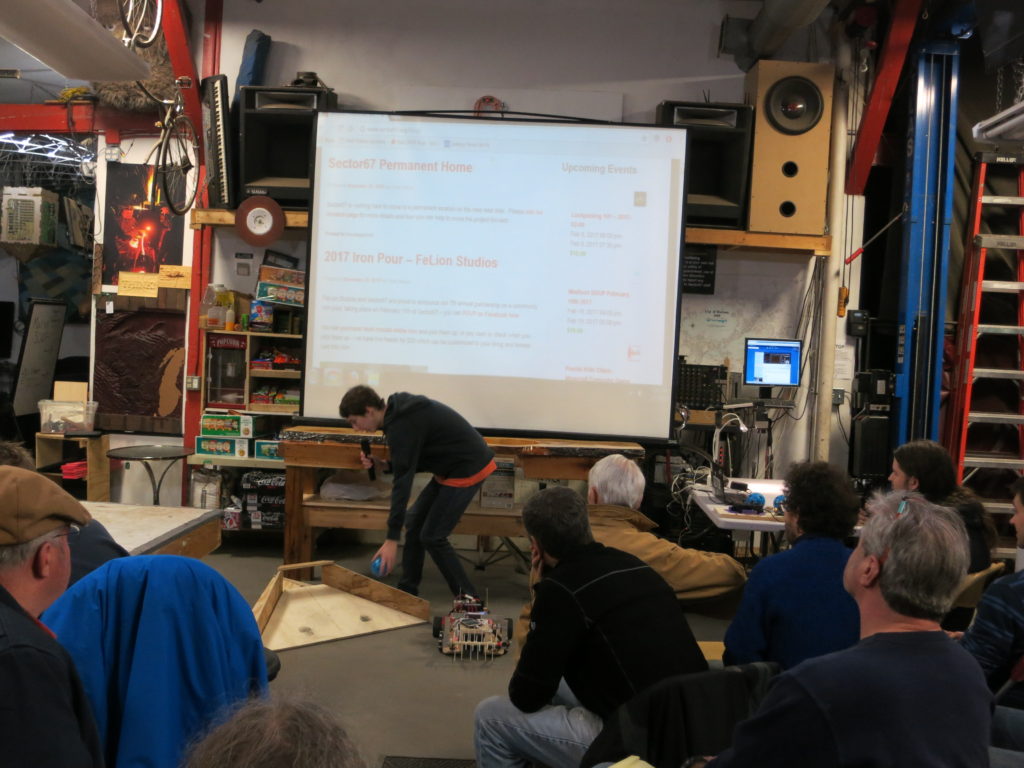 Joe comically, yet thoroughly told us about an early model of the Unitek Miyachi laser cutter that is able to cut thin metals. As he was giving his presentation, he passed around a couple of pieces he cut to show how it works. Below is the logo of Sector67. The Unitek Miyachi also has spot-welding capability.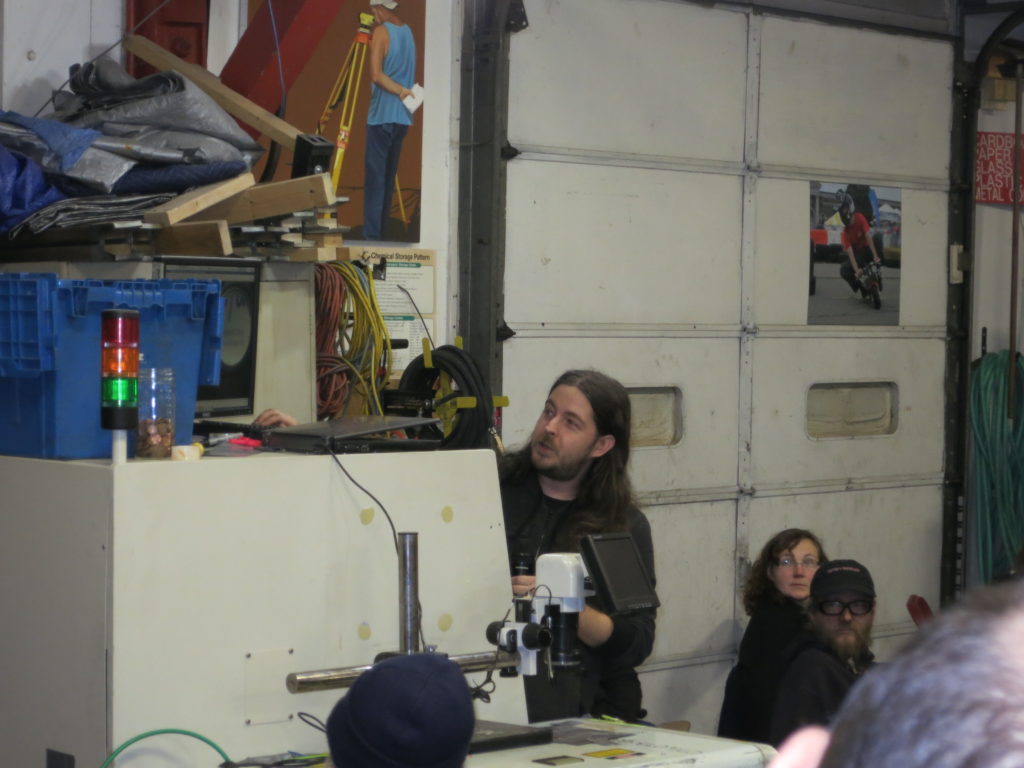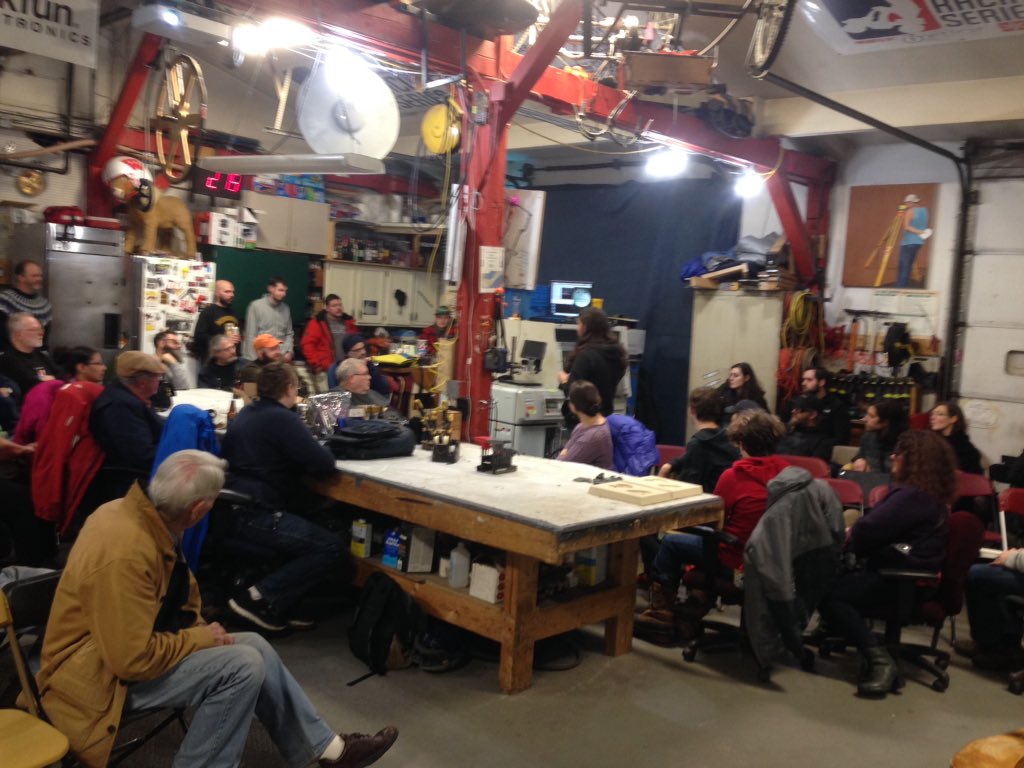 Joe holds hackerspace's attention as he naturally entertains and describe how to program functions into the laser cutter using the joystick and camera.
Evan presented his Solid State Tesla Coil he made for his capstone project while attending MSOE. The coil actually transforms power through a couple coils before it shoot out some plasma arcs at the top of it. Here is an image of a Solid State Tesla Coil that I uploaded from https://upload.wikimedia.org/wikipedia/commons/4/4a/OneTeslaTS_DRSSTC_Tesla_Coil_closeup.jpg.
This model is nearly identical to the one Evan presented. Since Evan didn't bring a live model I used this one to give you an idea of what he did present.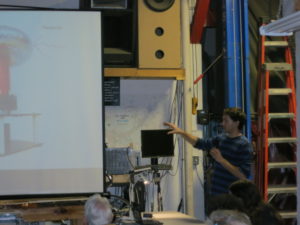 Here is Evan explaining how he decided to keep the stored energy low in case a child ran up to the table and touched his Solid State Tesla Coil during his exhibition at MSOE University. The rating of it ran at about 20 volts.
Kelly and Alisa presented the process of pouring iron.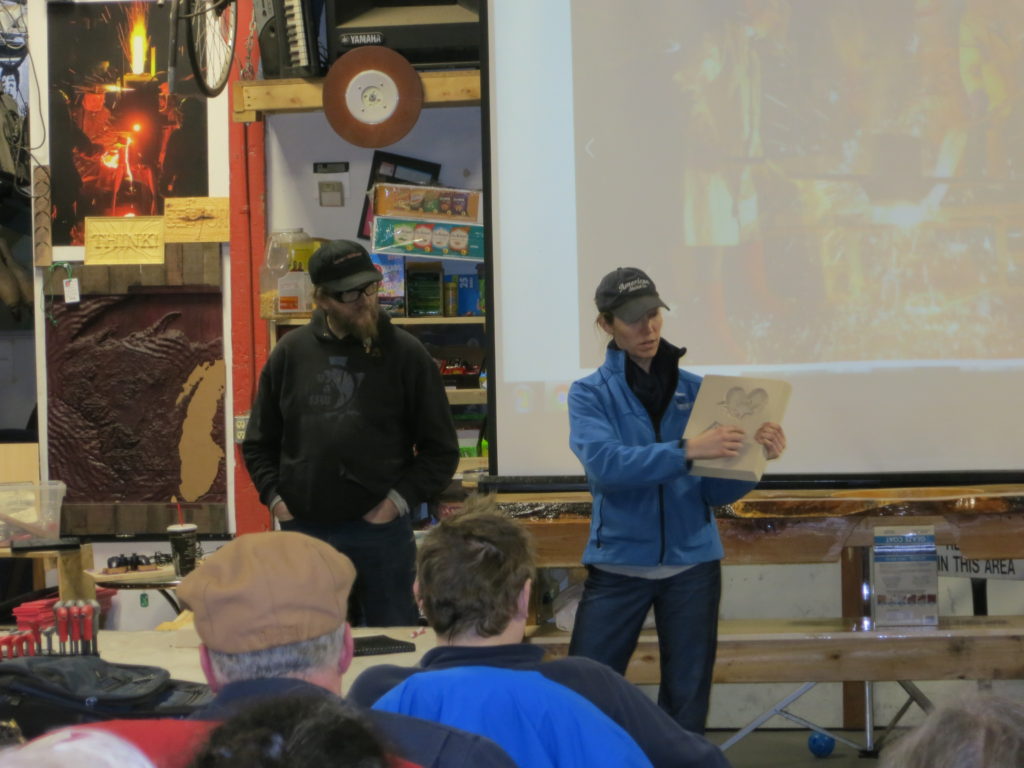 During their presentation, Alisa explained that a sand mold is essentially a "negative" of what the iron will be once it is poured into the sand mold.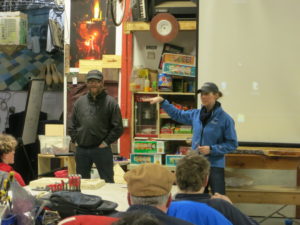 If you are ever interested in volunteering for future iron pours, you can contact Alisa Toninato at FeLion Studios and express your interests.
Jesse presented a gorgeous slab he made to custom fit a Green Egg Grill. The cost of a table would have cost Jesse a $1,000. So he decided to take $200 bucks and brought the slab. He told us how he sanded it down and finished it. The hole seen at the center of the lab was jig-sawed to hold the 300lb. grill.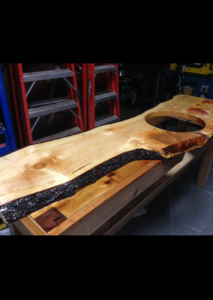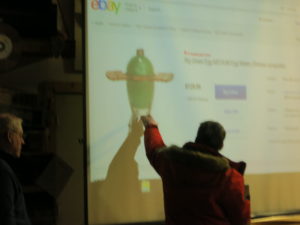 Jesse took A quick moment to give us a visual of what a Green Egg grill looks like.
Next up Quincy informed us about the All Hands on Metal Working Class instructed by him and Scott Hasse. The goal of the class is to teach young kids between the grades of 7th though 12th how to use tools that is used in metal working, as well as how to be good stewards in a shared space. Quincy announced that the class would now run once a quarter. Announcements will be made soon for registration for the next session. Here is some cool shots of Quincy teaching students of the class about drillbits, where to find them, and the need for shop safety. The bottom picture shows the students assessing some of their learned work.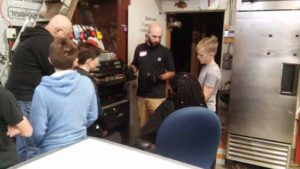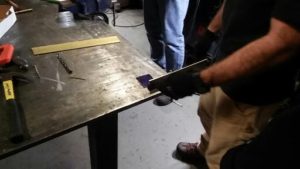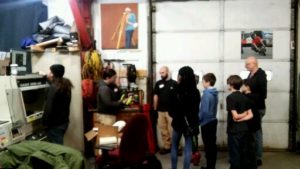 Davie came to talk about some magnets he made for his daughter. He started making the magnets using sketch art them moved on to CAD (computer aided design). Davie also used non-toxic paint to color the parts once they were cut. Besides, toy planes, trucks and cars, he also designed some cupcakes.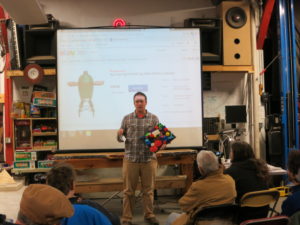 Jenina came and talked to us about the Madison Soup event. The event is a great way to network, get out of the house, give back, and share your talent with the rest of the community. Tickets go for about $10 and need to be purchased in advance. Madison Soup has been around since 2011 and partnered with Sector67 to host 18 events in which $7,000 have been raised to put back into the community.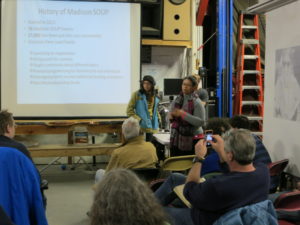 Mike and Dana came and introduced us to Sam, from portland who presented Eco-recycling to us via a livefeed. During their presentation, they spoke to us about finding better solutions to preserving our environment. They are currently working on a project that is an experiment at Standing Rock to create a recycling program. Sam told us about an initiative that they took on to remove trash at Standing Rock. In fact, Sam is a member at a hackerspace in Portland. There at their hackerspace, he assembled a stainless steel recycle bin. His concern was to remove an excessive amount of card board taking up space there. In addition to removing the trash from Standing Rock, they began a project to recycle trash and use it as fuel instead of fossil fuels.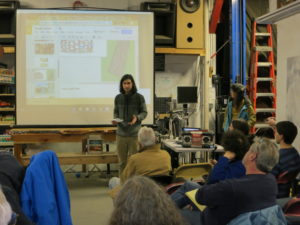 Mike and Dana cueing up Sam's presentation via a live feed.
The Show and Tell is a montly meeting that Sector67's membership enjoy. At the meeting, presenters share some of the projects they are working on, or either just share some really useful information. I encourage everyone to come out and check it out for yourself. The monthly meeting is held the first Tuesday of every month. Starting at 7pm. Next meeting is on March 7th.