Listen to the Sound of Science
Liam kicked off the presentations with his Arduino audio synthesizer project.  In essence, Liam used an Arduino Uno running many clock dividers to emulate tones.  He programmed the Arduino to accept MIDI serial commands so it's effectively operating as a MIDI tone generator with really limited resources. Liam's presentation engaged many interested audience members – great job, Liam!
Lon's Dragon
Sound's like a great movie, doesn't it?
Lon has been a metal artist for many years.  He always wanted to create a cool metal-sculpted gargoyle for his former home in Minnesota but never got around to it.  After moving to Madison, Lon started tinkering with the idea of a metal-art dragon.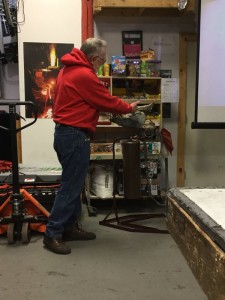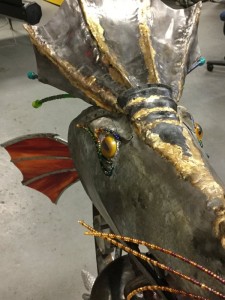 The metal "Dragon Bell" is still a work-in-progress; created with a recycled argon gas tank, various types of metal, glass beads, guitar strings, and of course stained glass wings. Modification are still being considered… flame thrower nostrils maybe?
Lon also shared a book of some of his other creative metalworks.  Thanks, Lon!
Photo Lightbox
Joe needed a light solution for use in photographing some very shimmery (and difficult to photograph) nail polish products.  Rather than having to move the product multiple times to get just the right lighting, Joe used  Neopixel LED lights and an Arduino to control the lights.  Joe can encircle the subject and control individual lights rather than having to move the product.  In addition, Joe can control the brightness, hue, and color of the lights necessary for capturing the perfect image.
Bright idea, huh?
Plug In Hybrid Conversion Packs
Eric gave a talk on surplus plug in conversion Prius packs that were originally sold by Hymotion (cells from A123) to take a standard Toyota Prius and turn it into an all electric (most of the time) electric car that plugs into the wall to charge.  The advantage of these packs is that you can get about 20 miles of almost all electric power, the problem is that Hymotion was sold to A123 (who subsequently went bankrupt) so there's no longer any service available unless you talk to Eric as he owns and operates EVPowers hybrid vehicle repair and is a battery/EV wizard!  He walked us through what's inside the battery and how to go about diagnosing them.
Look Who Made the Finals!
Three teams from Sector67 recently entered a makers competition sponsored by Infymakers. All three teams were selected as finalists for a $10,000 award. The teams were:
Mike and Alex with an electric town car
Jesse Ransom with a fireproof/superinsulated space blanket (for the homeless and firefighters)
Eric and Jim with a vibrating therapy device
They're still awaiting news of who takes home the top prizes, but either way we're proud of their creativity and accomplishments! Great job!
Hackaday Hints
Congratulations to Bob, who has recently been selected as an article writer for Hackaday!  Bob shared some information about the project selection process and some tips for getting articles published and making it easy for the writing team!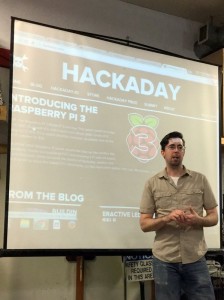 Bob's suggestions:
A descriptive subject line helps grab the Hackaday writer's attention
Links to information about the project (photos and videos welcome!)
Nice description of project, including why your project is cool!
Once you've got things put together, submit the information via email to [email protected] or use the contact form found on the Hackaday website.
Battle Bots Update
While they didn't make the cut for Season 3 of Battlebots, the  Sector67 Battlebot creation team shared a fascinating video of their bot, Bad Penny and got to the final cut.  Unfortunately the video is still underwraps but we'll post it at some point!
Call for Makers – Mini Maker Faire – May 14 – 10am – 5pm

Heather from Madison Mini Maker Faire stopped by to share information regarding the upcoming Mini Maker Faire at Monona Terrace.  The Faire is still accepting exhibitors and would love to have interested Sector67 community members join in the event.  There's still room for participants in the following areas as well as others found on the Faire's website. Registration for Makers will be accepted through April 15th, 2016.
Robotics
Homegrown Drones
Arduino Projects
Unusual Tools or Machines
3D Printers