Perfect weather and interesting presentations made the October meeting a great success!
You Built a What?!
The evening kicked off with an introduction to "Joliet" (Jim's Overbuilt LED Interactive Entertainment Table).  The table's primary function is as a digitally enhanced version of the "adult beverage game."  Our first presenter built the table in less than two weeks, just in time for the Maker Faire – Milwaukee held in late September.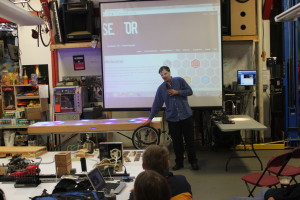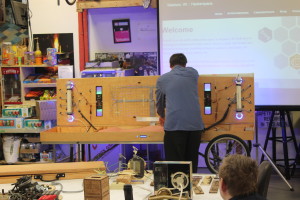 Top features of the table include:
3584 LED lights including a scrolling message board
Automatic scoring via an embedded IR sensor in each scoring pod
Wheels for portability
Ball dryer on each side
Internal AC, onboard battery, and external DC power sources
Micro SD card for custom animations
The Stronginator
The "Stronginator" was the next creation on display.  This device is the builder's take on the classic carnival game.  A player hits the center foam pad and a row of lights displays the measured strength; or does it?  Is the game rigged?
Solving a Lighting Problem
When Kate and Jeremy moved into their new home, they immediately recognized the need for more lighting in their main living space.  The lighting needed to be sizable, functional, and flexible.  Kate had an idea for a tree-branch "chandelier" of sorts and found a 15-foot long x 8-foot wide cottonwood branch about a mile from their home.  The couple agreed it was "the one" and Jeremy carried it home.
After four months of hard work, the branch lighting fixture is now a fully functioning part of the house.  Kate documented the entire design-to-done process and shared it at the meeting.  The fixture features 11 Phillips "Hue" bulbs that allow Kate and Jeremy to customize the room lighting with an app.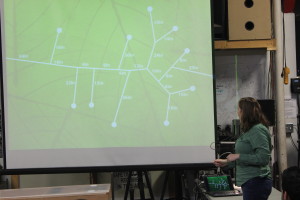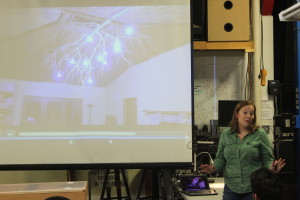 The Periodic Table of Motion – Coming soon to Madison Science Museum
As Madison Science Museum prepares to open to the public on October 22, Bob is building the components for a "Periodic Table of Motion."  This hands-on, interactive, and microprocessor-powered display will show how simple machines (screw, inclined plane, lever, wheel and axle, pulley, wedge) and their derivatives, operate.  With the opening of this display at the end of the month, Bob is looking for help in soldering, building acrylic cases, laser cutting, and designing.  If you can help, please use the contact us form at the top right and let us know.
Are There Other Uses for the Amazon Dash Button?
Wondering if the Amazon Dash button can be used for more than just reordering laundry detergent?  Josh shared his recent experience in understanding more about the Dash. Through some experimentation and online resources on the topic, he is experimenting with alternate uses for this device.  With built-in features like integrated Wi-Fi, what do you think?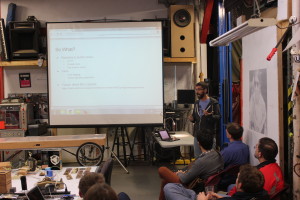 Amazon Dash in the news:
Building a Better Night Light
Aiming to learn more about both electronics and programming, Francis imagined the possibilities of building a better night light.  He started by looking at current functionality and imagined what features his "dream night light" might have.
Beginning with concept sketches, then learning more about electronics and programming from Sector67 community support, Francis built a prototype that utilizes an embedded Arduino Nano housed in a case printed on the 3D printer.
Other features Francis included in his device are:
motion sensor
bright/dim adjustments
flicker feature
flip-down plug
Francis is already working on refinements for the next version of his even better night light.
"Lightning in Lumber" demonstration
What happens when you run electrical current through wood?  Jesse, Josh, and Jeff have recently been experimenting and learning more about this.  The results are varied and often quite beautiful!
"Sometimes it starts fire, and sometimes we end up with something like this," stated Jesse.  While the results have varied, the learnings and collaborative efforts of the group have certainly made this project interesting.  With the addition of some safety features, a project such as this could be featured at an event in the future.
High-Tech Halloween Carving
Tormach, a CNC manufacturing company from Waunakee (and friend of Sector67) has generously provided us with a new piece of equipment.  This new machine has the skill and power to take on many big projects, but we thought we'd start with a small one… a Jack-O-Lantern.  We'll have many more projects and news about this generous gift in the near future, but for now here's a look at one of its many capabilities in carving gourds!
"Here for Inspiration"
In addition to current members, the October meeting brought many first-time visitors.  During introductions, there was a resounding theme of "I'm here for inspiration."  There is no doubt that this collaborative space will get your creative juices flowing.
If you've been thinking about stopping in to Sector67, there are two ways to do so.  Our monthly meetings are free and open to the public.  The next meeting is on Tuesday, November 3 at 7:00 PM.  In addition, there are Open House/Tour opportunities each Friday from 1-7PM on the hour.  Check our calendar for more details.