In case you missed the June monthly meeting here's a quick recap – you'll have to stop by the next meeting to catch more fun presentations like these, they're always the first Tuesday of the month at 7PM.
Liam started out the evening on a talk about a programming language he created called Zed that allows for more efficient coding and reduced syntax errors: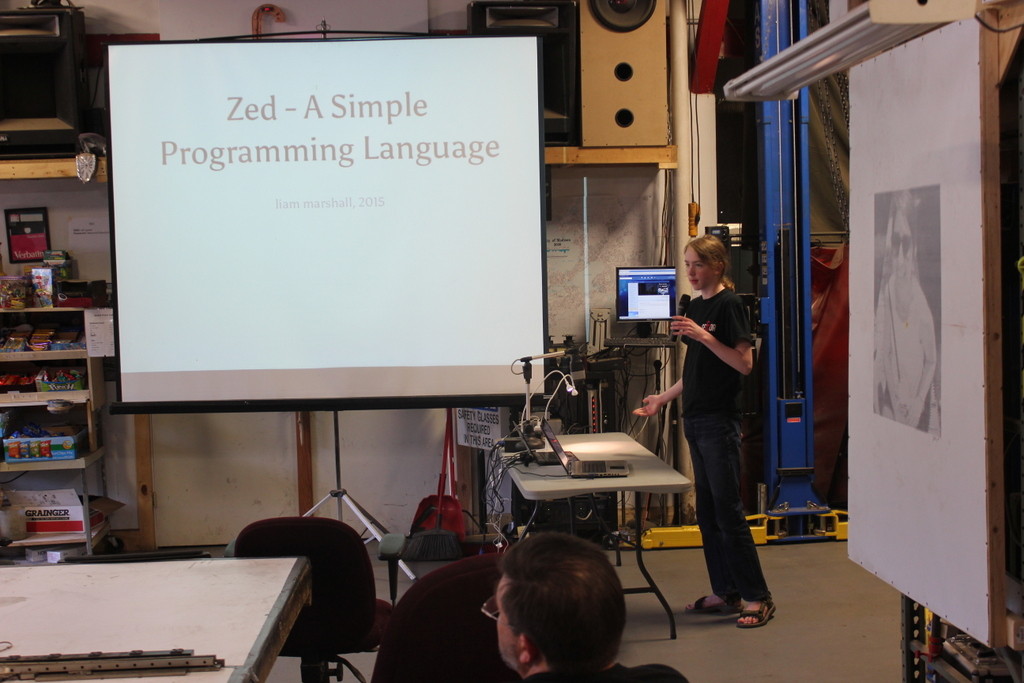 And also shared a little of the backend: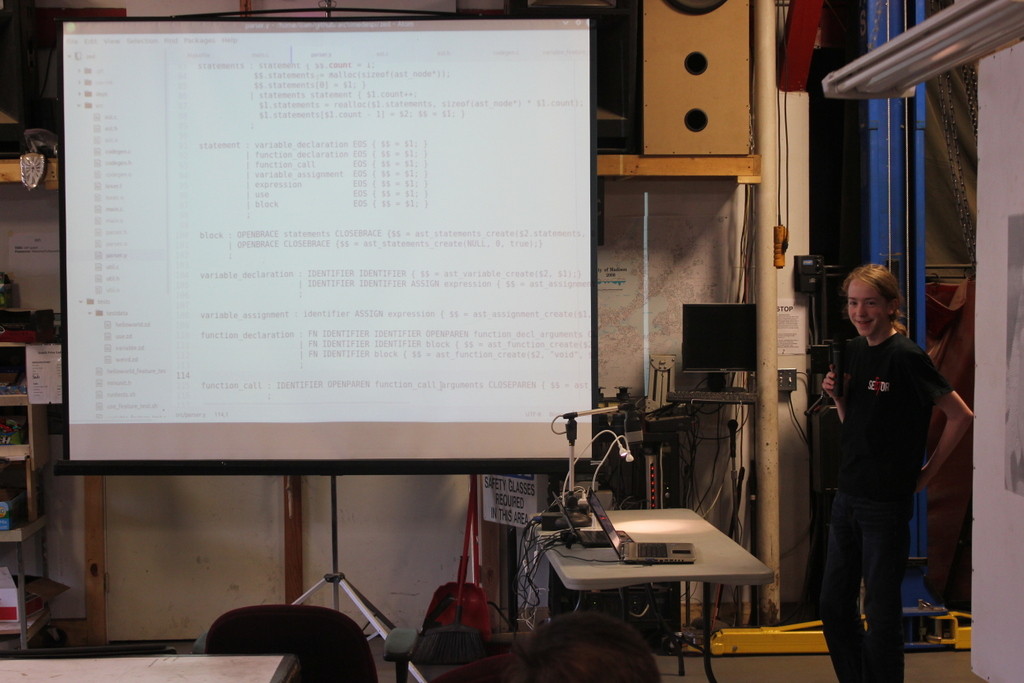 Robin and Marty talked about their trip to Maker Faire in San Francisco to sell jewelry through their startup Lumen Jewelry: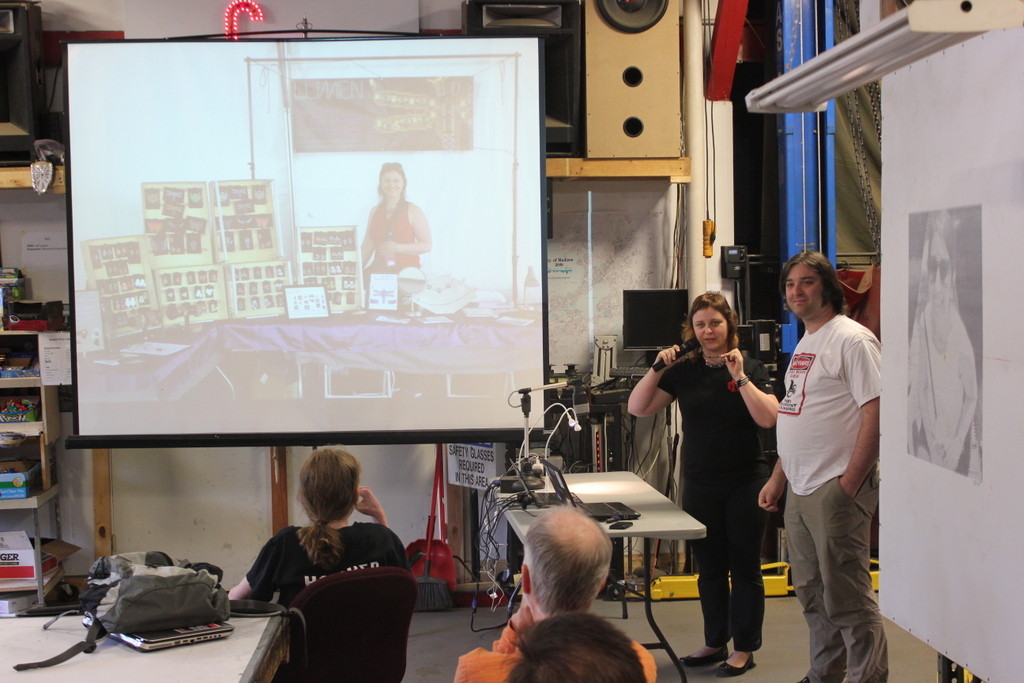 And some other cool stuff that's at the largest Maker Faire in the world, like really neat stainless steel 3D prints from an SLS printer: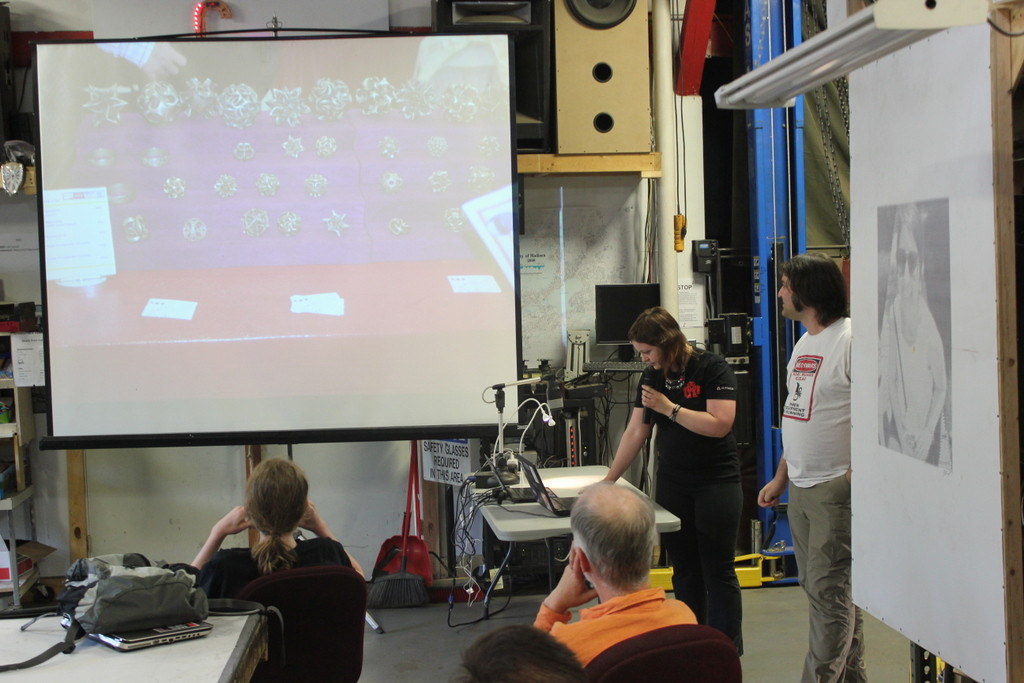 While the economics didn't quite hit the black, they noted it was well worth it for the brand recognition, experience, and personal connections formed.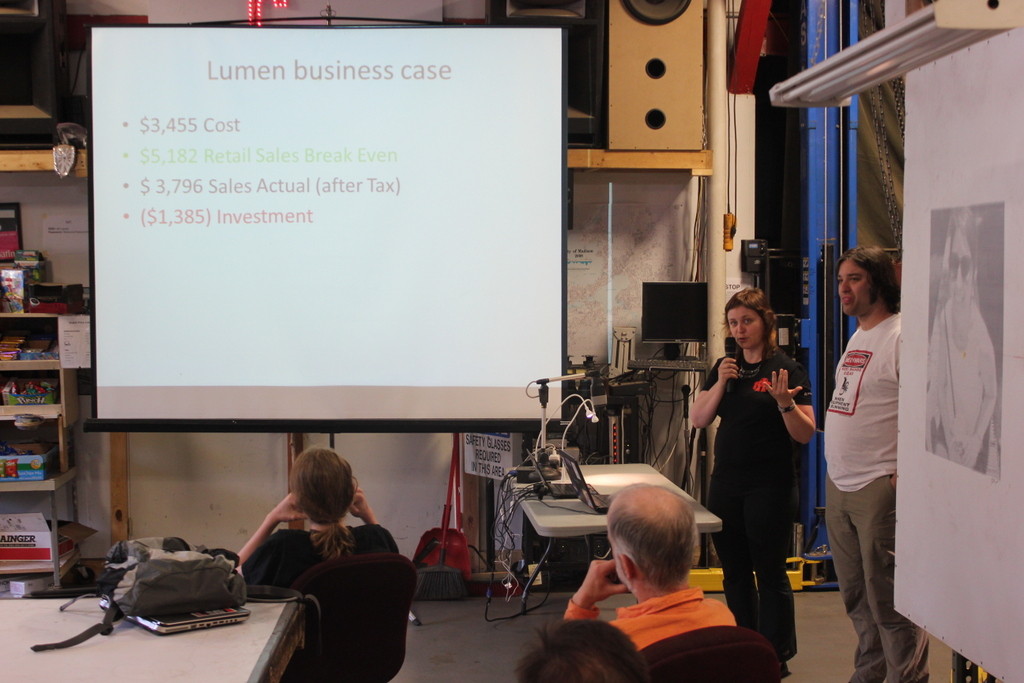 Demonstrating the generally small world in which we live in, Robin and Marty's father turned out to be a founder of a company called Laser Machining Incorporated, which is still operating in Wisconsin as a manufacturer of high power flowing gas CO2 laser tubes for the fabrication industry.  We happened to receive a donation of two systems and he was kind enough to tell us a lot more about the tubes and the general function of a flowing gas laser versus the cheap Chinese sealed tube systems: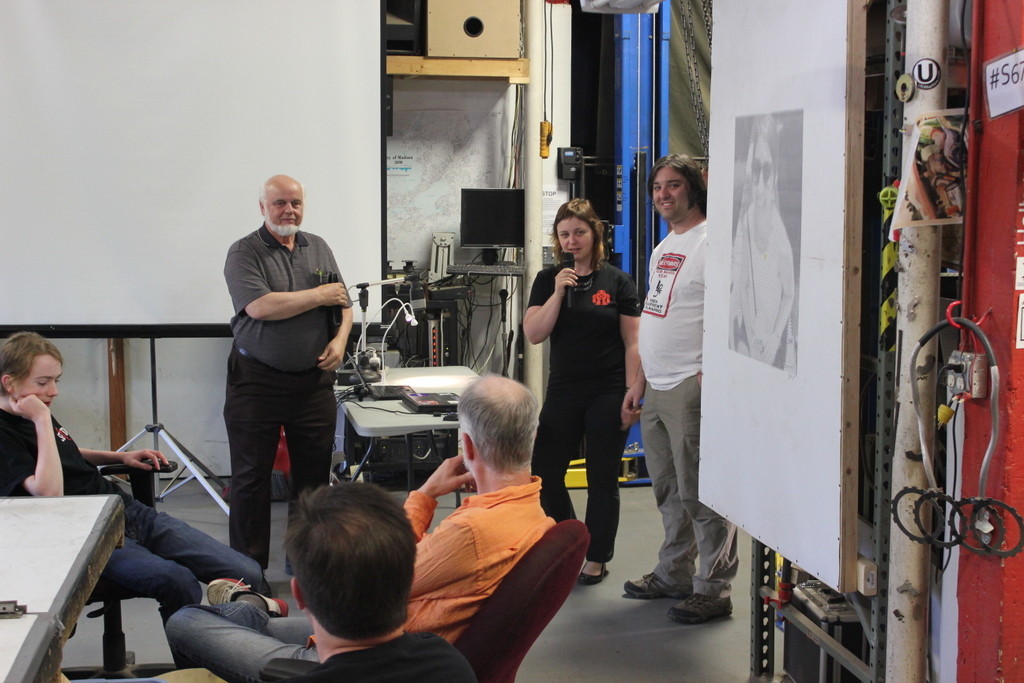 The laser operates in a vacuum with a bleed of "laser mix" gas that allows the high voltage supply to excite photons into resonance in the center of the green (coolant) glass tube pictured here: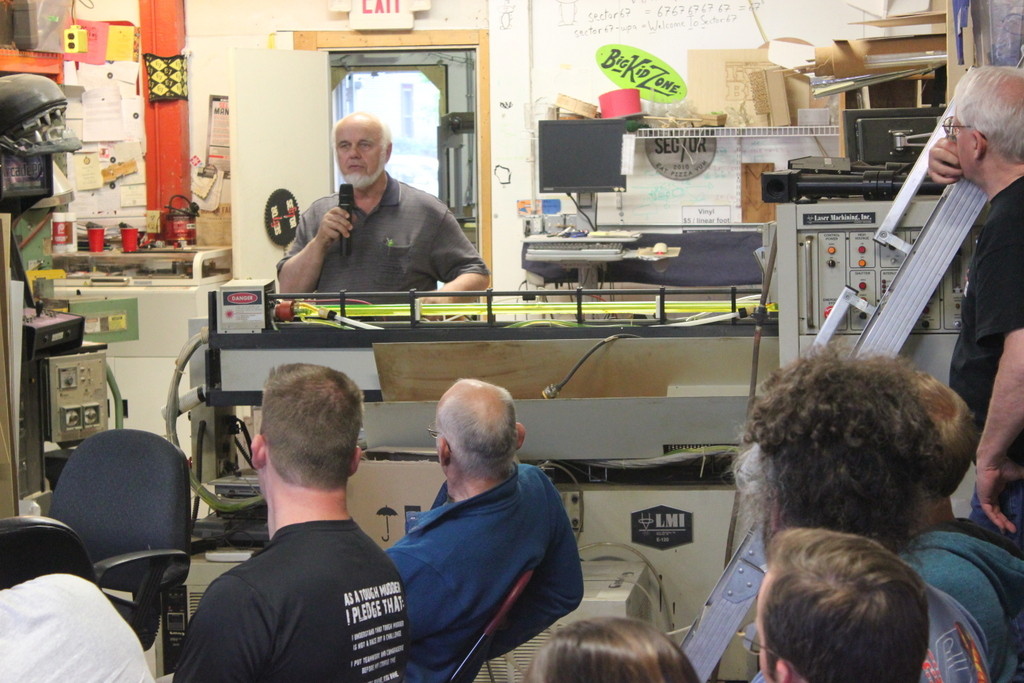 Scott talked about our departing social media intern (thanks Nick!) and our seeking someone for the summer to help with posts like this: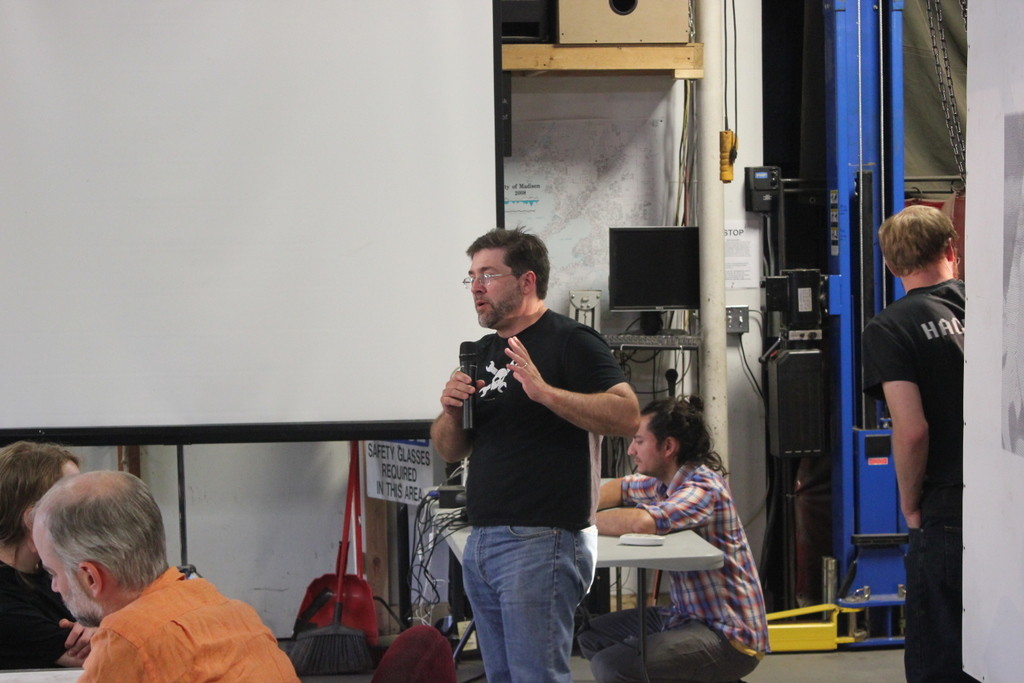 Adrian gave a talk about the design, construction, and installation of a store display for the lululemon store in Hilldale mall.  This is what the store display looked like when he started: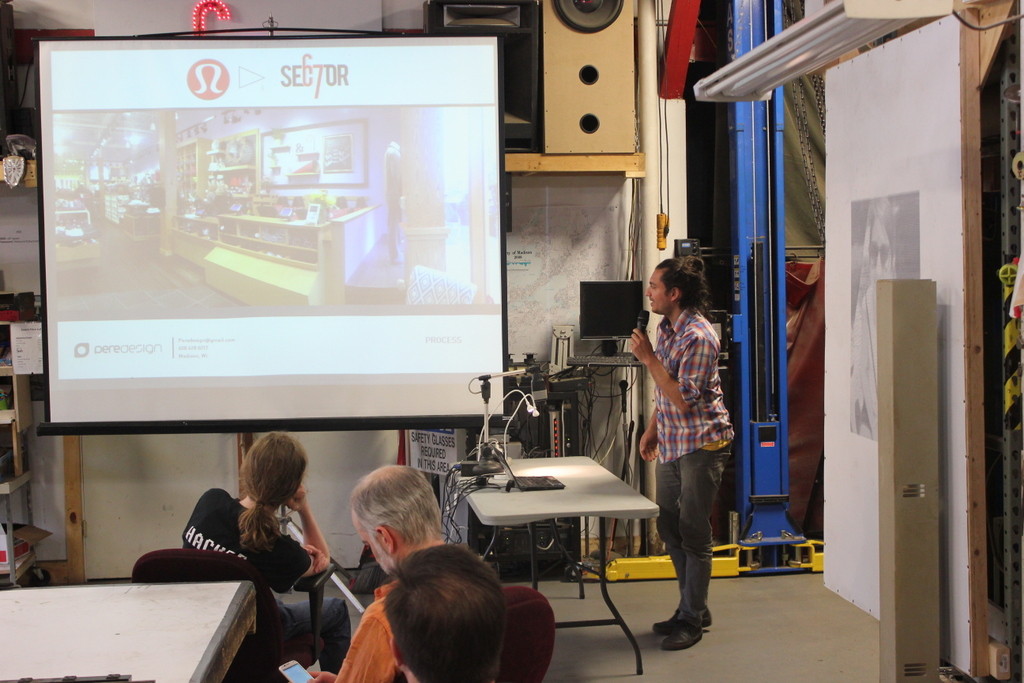 He ended up creating a pattern of many triangles held on a matrix of canvas (cat for scale at left)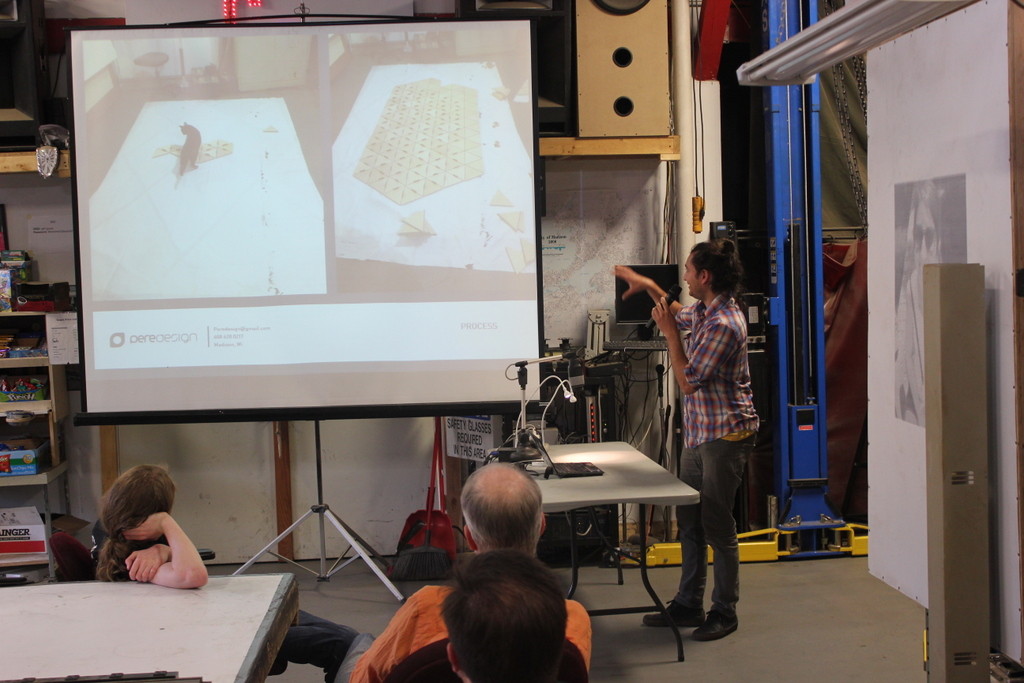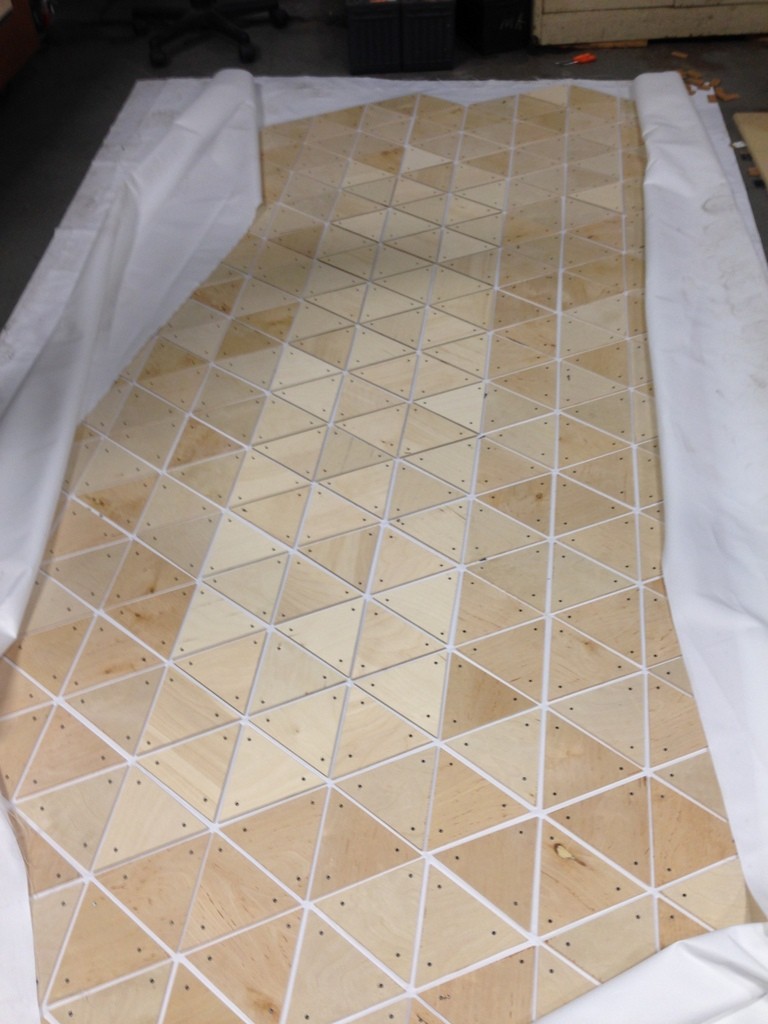 Using the automotive lift to hold the preliminary array of triangles together to sort out shadowing and lighting to give it the best appearance when hung: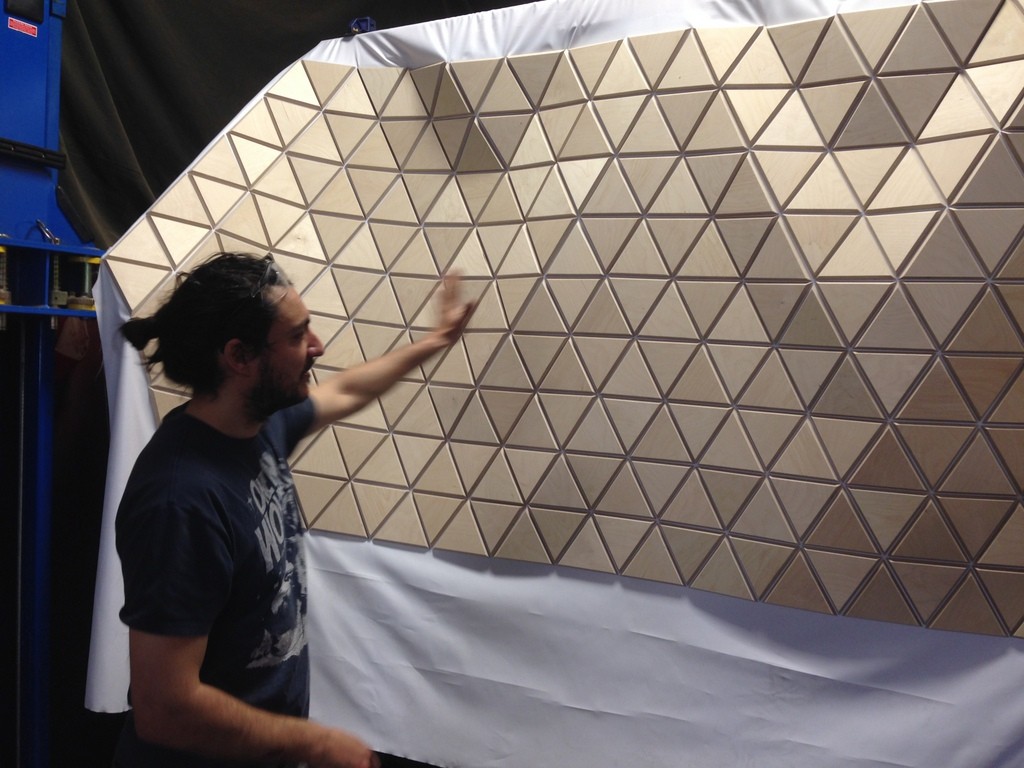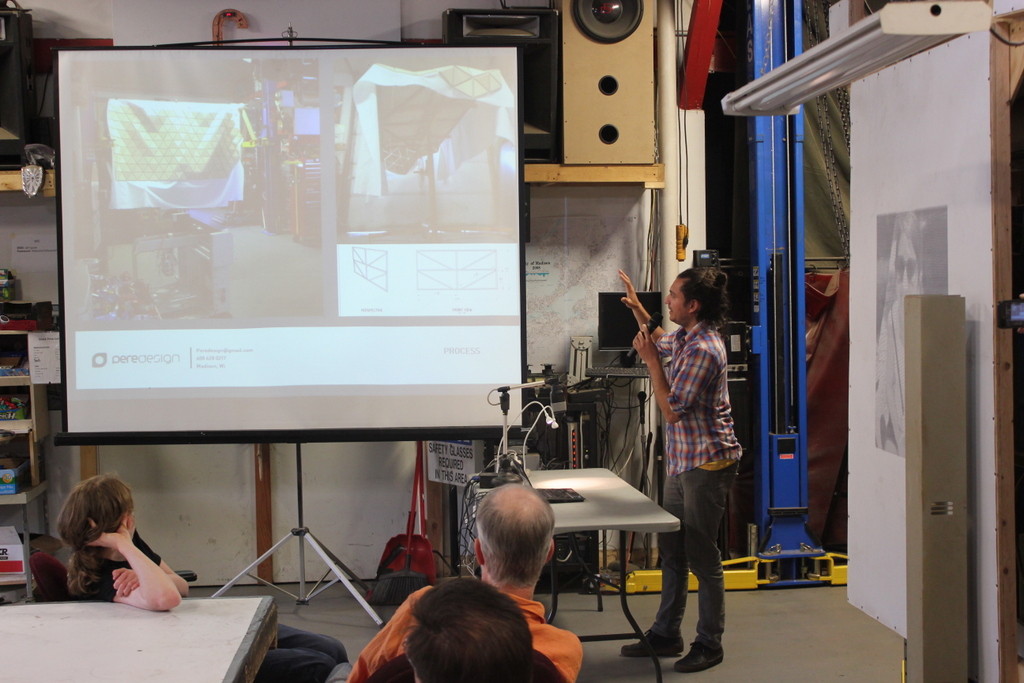 Final product awaits installation (human for scale, at left).  Lettering was dyed with beet juice and cut out on the panel router: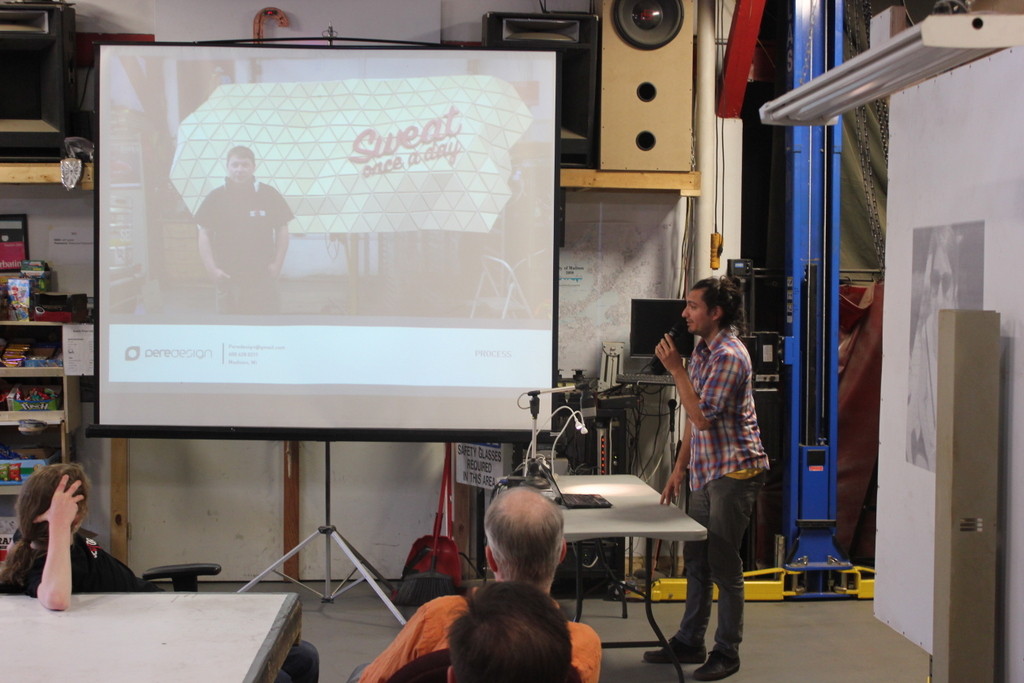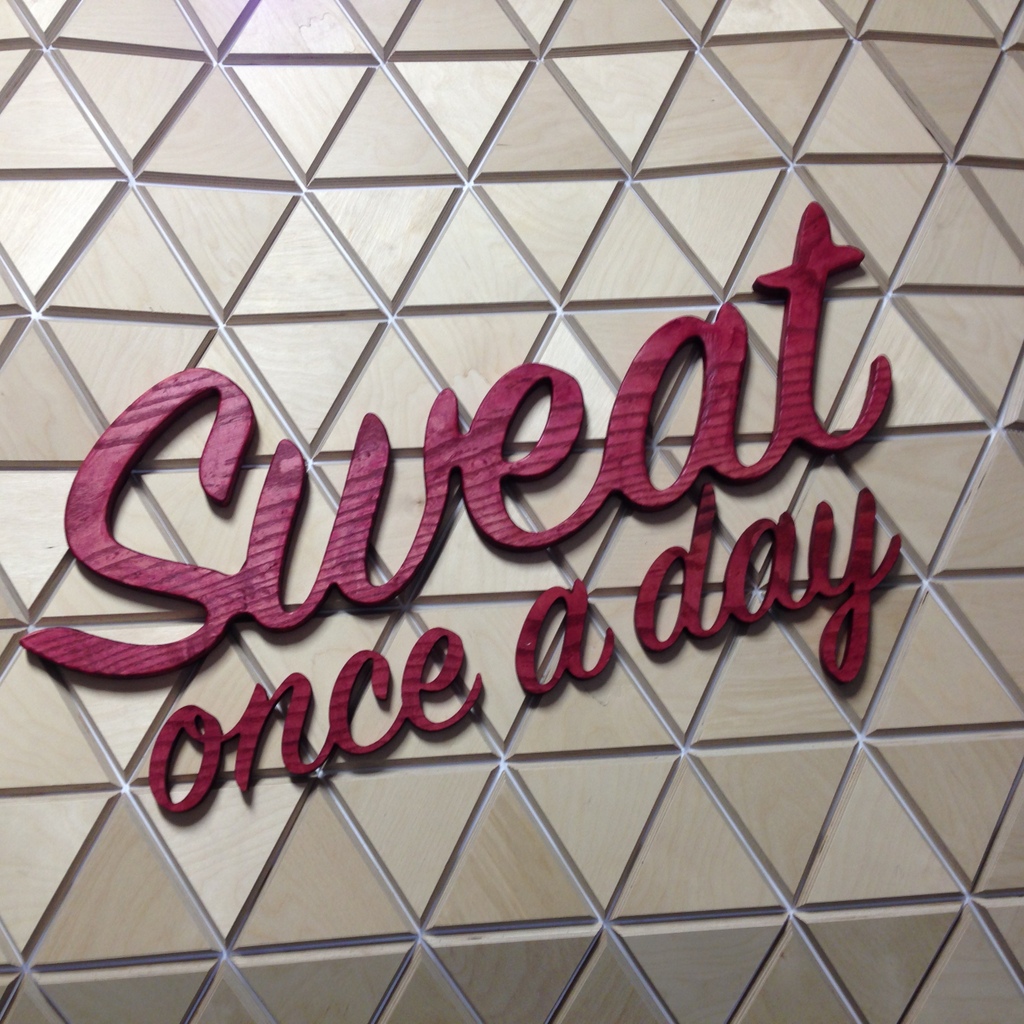 Final product installed, you can view it in person at the lululemon store in Hilldale mall: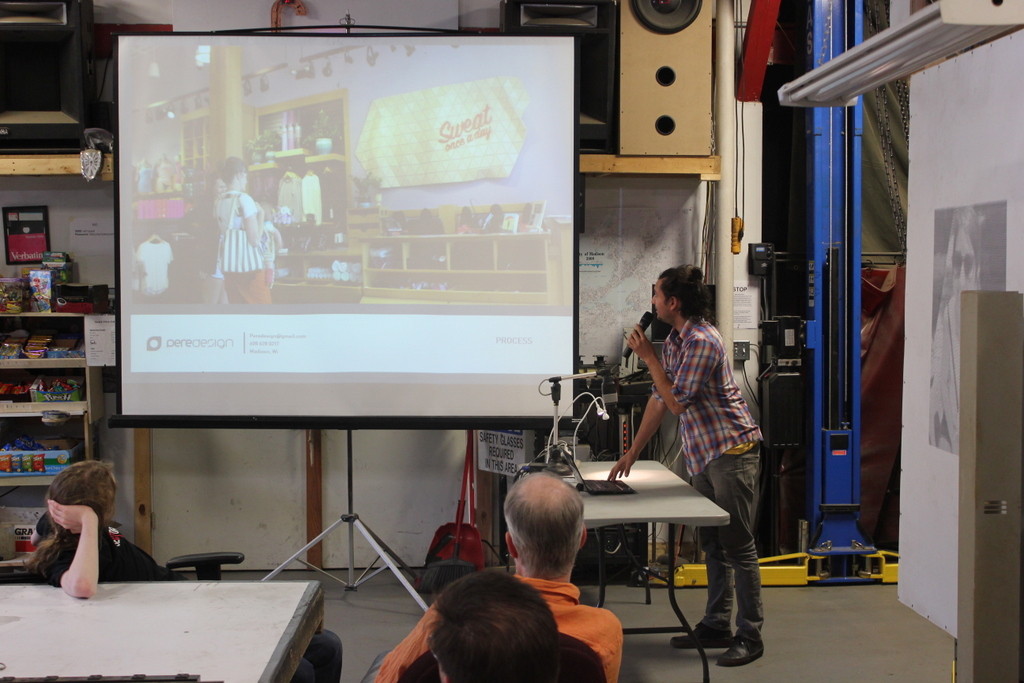 Finally, Eric shared his experiences in cutting glass bottles to make an olive decanter and glasses.  He overviewed all of the methods he heard of and some that he tested (string and lighter fluid, tile saw, heat, heat and a cutter, just a scribe, etc. . .) and finally the approach he settled on with a scribing jig and cold water and a very small butane torch.
Here's the sophisticated cutting rig, essentially a glass cutter mounted to a hinge with some blocks to retain the bottle that's spun by hand: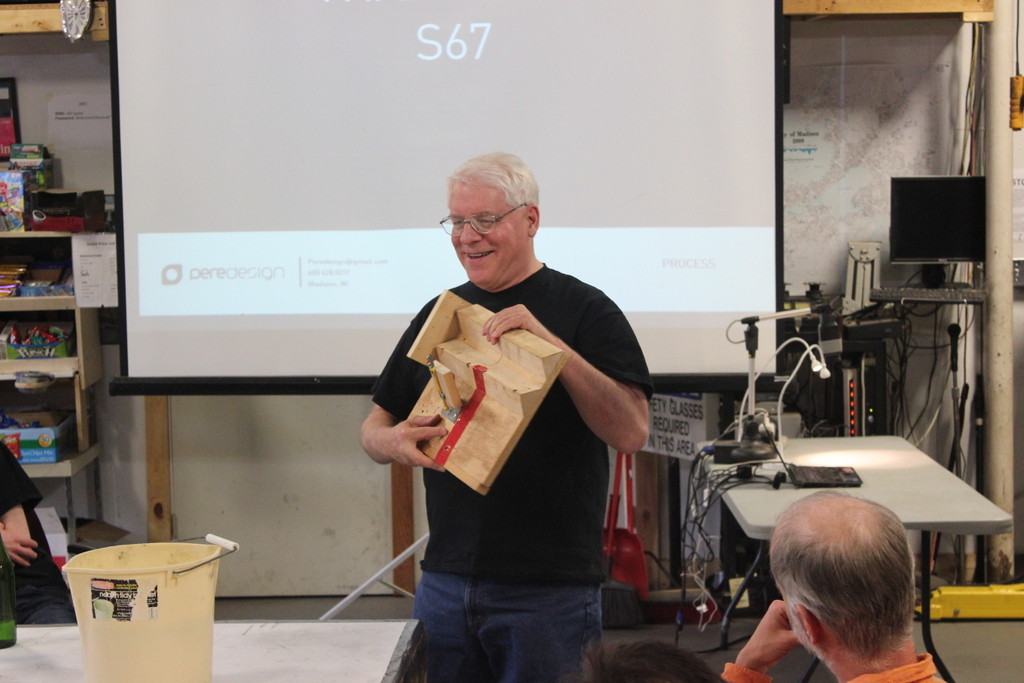 Scribing the bottle is important to get correct in one pass, without any overlap (and the ends of the scribe mark need to line up precisely)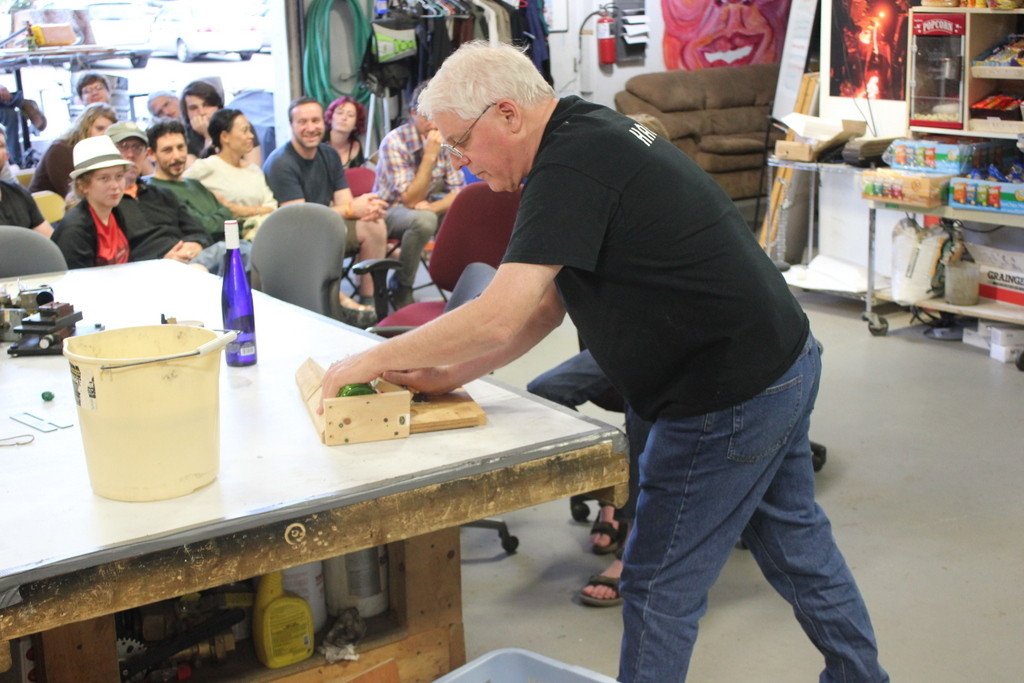 After scribing the line, and 30 seconds worth of heating with the butane torch – a quick dunk in room temperature water separates the two halves: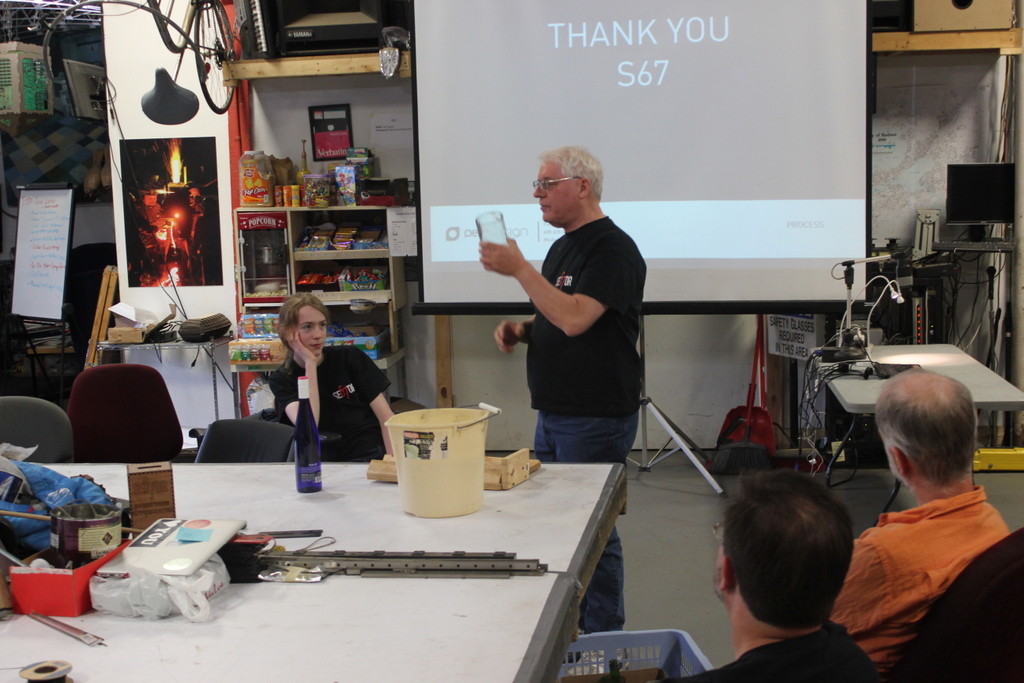 A quick video of the process:
https://www.youtube.com/watch?v=elZlV4gvnFI
Thanks to everyone who presented and showed up to watch!  Hope to see you at the next meeting!