"We always have the same conversation with our circuit board supplier", says Robin. "After every order, they call us to say that the circuits are exposed, and to send them back once we fix the drawing". However, the drawings are correct. Being able to see how the electronics work is part of what makes Lumen so unique.
Siblings, Robin and Marty, have been working on their LED-laden, solar powered, circuit board jewelry for about four years. Now, Lumen offers a total of 58 blinking and non-blinking pieces of jewelry, including necklaces, earrings, bracelets and cufflinks. For the more technically curious, they also offer kits that still need to be soldered.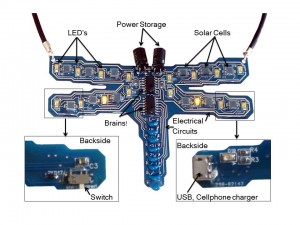 Both having master's degrees in Mechanical Engineering, Marty works for the Atmospheric Sciences department at UW-Madison and Robin is a former engineer at Trek, who now works for Lumen full time. They hope that their jewelry will spark the interest of young people in science and technology.
They complete much of the soldering at Sector67 and use the laser-cutter to make jewelry mounting cards.  As fourth generation engineers, the say the smells and sounds of the shop at Sector67 remind them of their father's workspace back home.
Check out their website for more information about Lumen and their Esty store for a full list of their jewelry.