Several people have been interested in cooking "with science" for quite awhile, so a day was finally decided and materials were purchased to make it happen.  One of our members owns the "Modernist Cuisine" cookbook, which provides an amazingly detailed set of recipes for those willing to hunt down the materials and equipment to follow them.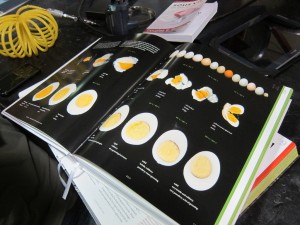 On the list of activities was:
Laser-cut ginger bread structures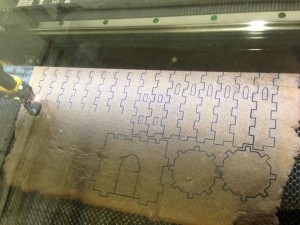 (Testing on some cardboard to make sure things fit together)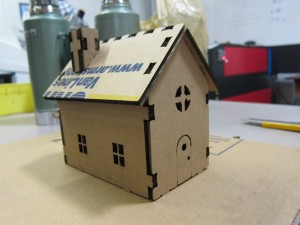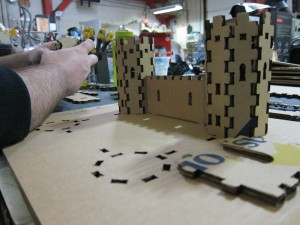 Vacuum chamber pomegranate infused watermelon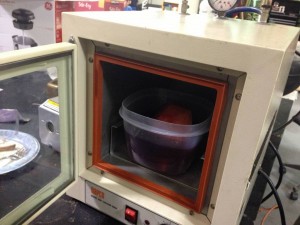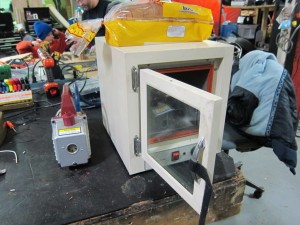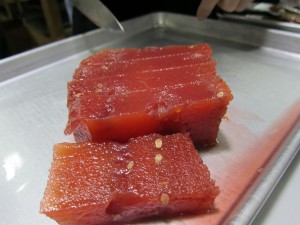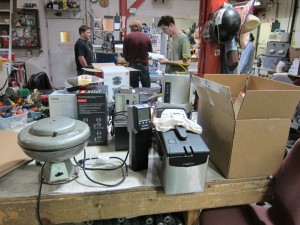 Sous vide salmon
Sous vide cans of condensed milk, which turn to caramel.
Electrified pickles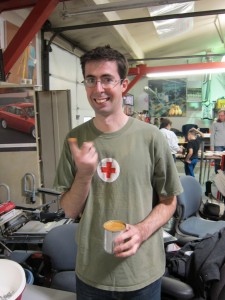 (Don't try this at home finger aimed at YOU)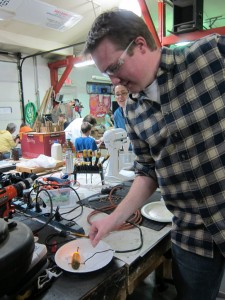 We put the trusty PhD electrical engineer to work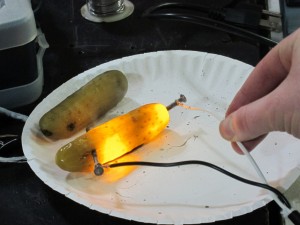 The "Perfect Hamburger" per Modernist Cuisine, cooked sous vide then cryofried in liquid nitrogen and deep fried.
Laser toast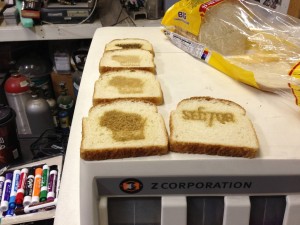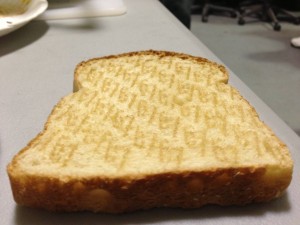 Carbonated fruit
Liquid nitrogen ice cream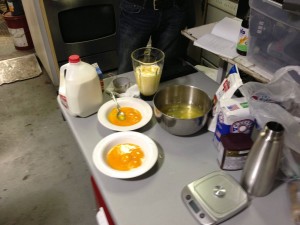 Sous vide crème anglaise
Sous vide 16hr BBQ ribs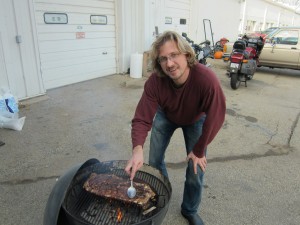 Modernist Cuisine inspired Weber charcoal grilling with special modifications
Sous vide custards and ice cream base
The event was a success when measured by the number of times we heard people say "Oh my God!" following the first bites of various food courses. One person testified to saying it 6 different times.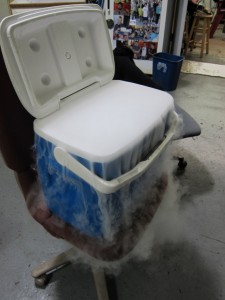 For my part, I was happy that the amount of effort that went into making 40 hamburgers was worth it. We learned that the hamburgers need only be cryofryed for about 15 seconds and then deep fried for a minute and a half at 350 F. We used organic cold pressed high oleic sunflower oil for deep frying and it worked wonderfully. The first burgers we cryofried for a minute and they ended up being cold inside even after deep frying to golden brown.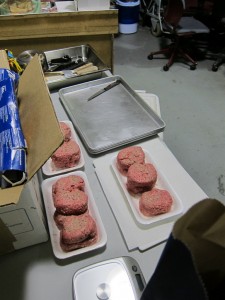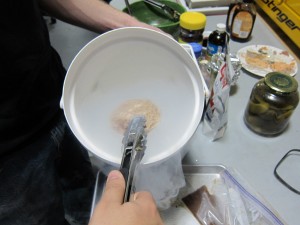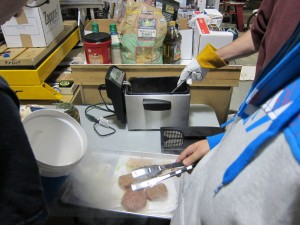 Look of satisfaction 🙂
Which of course turned into "I wonder how . . . would taste", turns out that not much could be done to improve hot dogs: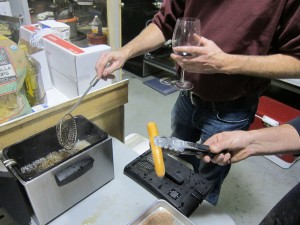 The crème anglaise was amazing when served over carbonated blueberries, and covered with fresh real whip cream made with a nitrogen charged siphon. I will be making this for Christmas dinner this year.
Things that we are saving for the next few events (next one is mid-February):
Laser roasted coffee
Laser engraved coffee beans
Laser popped corn (if it doesn't invalidate the warranty of the laser cutter) 🙂
Ultrasonic French fries
Swiss meringues made using a whipping cream siphon, then baked in a vacuum oven
Rotary evaporator "Rotovap" concentrated food flavors
Herb flavor extractions. Supercritical CO2?
Sous vide anything and everything……( but no avocado)
Smoking ribs in a home made smoker. Using unusual woods. Basil stems, straw, mint, etc
Sous vide lobster in butter
"Wood Fired" pizza using a metal plate to turn an electric oven into a pizza oven so we can make fresh pizzas in 2 minutes. MC pg. 2-26
Sous vide eggs at a range of temperatures to see the various different textures possible between 131 F and 194 F.
Crème brule using glass blowing torch to caramelize the sugar surface
Bacon!
Carbonated liquids in a soda siphon
N-Zorbit, Transglutaminase, Hydrocolloids
Coffee made with Japanese siphon and Cold brewed coffee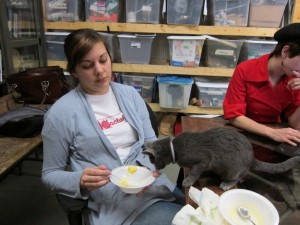 Have to do something with all the left over LN2: