About 50 members of the community attended our November meeting – what a great turnout! As usual, the room was filled with a mix of familiar faces and new friends!
Recognition from Madison Science Museum
Terry Sivesind, one of the founders of the newly opened Madison Science Museum and esteemed member of the Madison entrepreneurial community, stopped by the meeting to thank the Sector67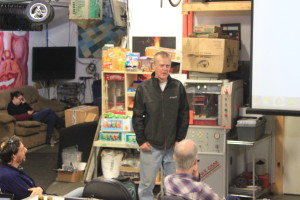 community for its contributions. Terry provided a brief overview of the highlights of Museum's exhibit halls and asked each Sector67 contributor to speak briefly about their role in the process.  The Wisconsin State Journal recently published a great article, "New Museum Shines a Light on Science" which provides a great overview of this much needed addition to downtown Madison. Check out MSM soon and watch it grow!  The Museum is seeking volunteers for a variety of tasks, so if you or someone you know is looking for an opportunity, please contact Madison Science Museum.
Winged Victory
Shira shared her experience with 3-D print replication of a historic sculpture.  The original sculpture, entitled "the Winged Victory of Samothrace" is a 2nd-century BC marble sculpture of the Greek goddess Nike (aka Victory). Shira found the pattern for her replica on Thingiverse, an online collaborative community for all things 3-D.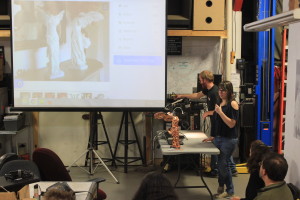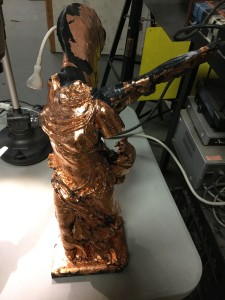 The sculpture, 10 pieces in all, was printed over the course of several days and countless hours. The hollow sculpture was then assembled and its base was filled with silicone to keep it from tipping.  After assembly, Shira chose to apply a copper overlay and she'll eventually apply a patina finish.  In looking at Shira's 3-D model, it seems like "Winged Victory" is a perfect description of her final piece.
After the meeting, Shira had this to say about Cosmo Wenman (the designer of the file) and the concept of digitizing art.
"Cosmo Wenman scanned in the plaster cast of the original as part of his fascinating project Through A Scanner, Skulpturhalle. Not only are his scans the highest quality scanned artworks on Thingiverse at the moment, the whole concept behind digitizing art is also about making ownership and viewing of art more accessible to the public. Museums are dragging their feet on this and showing extraordinary closed-mindedness, and that makes Skulpturhalle and Cosmo's project quite unique for this moment in time."
For the Birds
In sticking with our unplanned "Wings" theme, Eric showed off his newly completed project, a lightweight, portable blind which he stitched together in the Sewing Studio at Sector67. Eri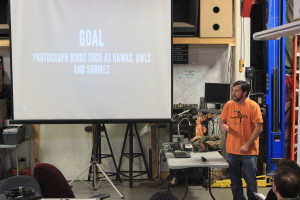 c, whose day job is a computer programmer, enjoys photographing birds.  In the past, Eric used a stationary blind structure to capture images of his subjects. Obviously, this presented significant limitations when it comes to following birds.  In talking with a fellow community member, it became apparent that building a portable (perhaps wearable) blind could provide a great solution to his problem. Now if only he knew how to sew!  Fortunately, Sector67 has plenty of problem-solving resources – from heavy-duty sewing machines to in-person sewing expertise, coaching, and advice (a.k.a. Jim).  Eric shared a great story surrounding the photo of this Northern Harrier.   For a look at some of Eric's photography, check out his website.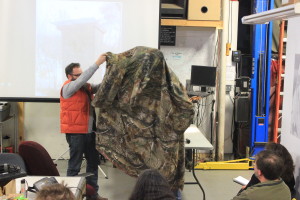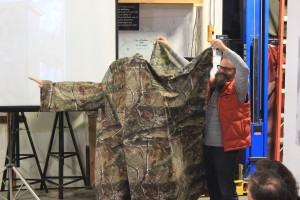 Boba Fett Helmet Project
Josh is a huge Star Wars fan, and ever since he was little he's dreamed of having a Boba Fett helmet of his own. Inspired by a community member's Ironman costume project, Josh decided it would be cool to realize his dream and replicate a Boba Fett helmet for Halloween.  Josh found file on Thingiverse and printed a 34-piece prototype that presented some fit challenges and was quite painful to wear.  In exploring other options, Josh found a papercraft model online and used Netfabb to cut the model into a 3-D printable pattern for his helmet. After about 120 hours of total 3-D printing time (for both the prototype and final product), Josh completed his helmet in time to wear it for about 10 minutes at a Halloween party!  Josh plans to continue working on his helmet to make it fit better, allow it to be more comfortable, and to add the essential range finder.  Josh will bring his finished helmet to a future meeting.
Helicopters of all Shapes & Sizes
Drones are certainly making the news lately! Chris showed a variety of helicopters/drones which had a variety of uses.  
Mini "play-at-home" versions (~$30) are an inexpensive way to enter this market


Midsize drones/copters, equipped with GPS and GoPro cameras are gaining popularity as their technology and durability increase and price decreases

Powerful multi-propped versions are used for heavy-lift challenges such as this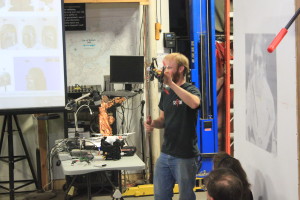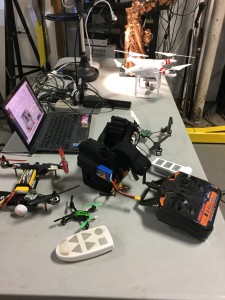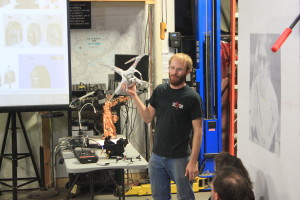 Upcoming Classes
If you'd like to learn something new, get inspiration for an upcoming project, or brush up your skills, there are some new classes posted in the website – check them out!   New classes are added regularly, so keep checking in!