The Sector67 monthly meeting was held March 3rd 2015.
1.Mike presented a vacuum table insert for the CNC Router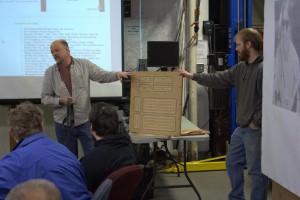 This allows flimsy or lighter weight pieces of material to be secured with out the use of clamps which may compromise the consistency of a cut.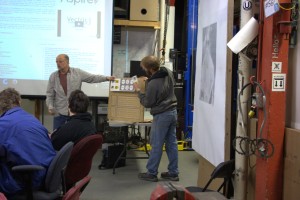 2. Larry presented a base-camp power box consisting of multiple USB ports connected to a battery.
Tentatively called "The Big Juice Box" it is ideal for camping or road trips or situations where USB power supplies are limited or non existent. Providing power for several devices to be used simultaneously such as lighting or music sources, cooking devices, or cellphones that need charging.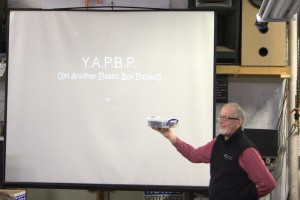 3. Alex took us all back to our days of math class, where survival depended on the games your calculator had. Taking it one step further and programming his own!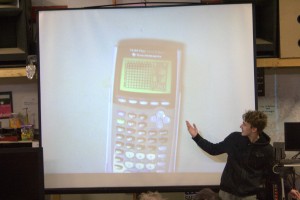 ticalc.org has some great resources for these programs.
4. Eric presented his latest version of the theremin inspired Ondes Martenot
This latest version features moveable tube lighting that indicates where the major and correlating minor notes of a scale are located along the "keyboard" surface. This new feature is a a great learning tool, providing visual reference for scales and is capable of being repositioned for different scales.
5. Shira gave an update on her MOARbots
Read more about her MOARbots here
6. Heather gave a presentation on the upcoming Madison Soup event being held Sunday March 8th 2015 4 pm-6 pm at Sector67.   Only a few tickets are left so get them while you can!
For more information head over to www.madisonsoup.com
Tickets available here