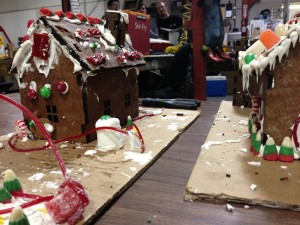 My family has a tradition of making gingerbread houses for the holiday season, the more elaborate the better. So when we got a 150-watt laser cutter at Sector67 one of the first "practical" project ideas I had was to try and laser cut structures out of gingerbread. To keep things fun and chaotic, we invited a number of other families along for the ride and had our event coincide with "Crazy Cooking Day" at Sector. It was interesting to watch candy-coated houses being erected alongside the preparation of sous-vide food and other delicacies like electrocuted hotdogs.
The good news is that it basically just worked, and the kids had a great time. The laser was in generally able to cut the gingerbread and the designs held up well. I created designs for a simple cottage, castle and barn using Inkscape, and transferred those designs through Corel Draw to the laser cutter in dwg format. Some design tips:
1) Make an prototypical tab and slot and clone rather than copy them in Inkscape so you can easily adjust for different material thicknesses across the design. In the designs I'll upload, the tab and slot in the lower left are cloned across the drawing.
2) For the final upload, remove the prototype tab and slot and join all the lines you can to keep the cuts contiguous and thus faster.
3) Test cut your design in cardboard first to make sure everything lines up.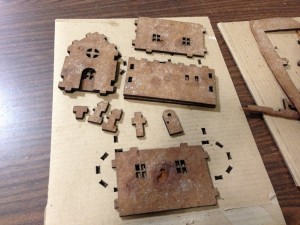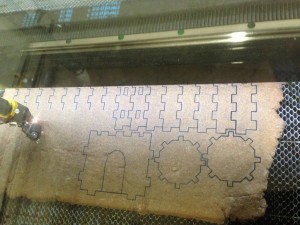 We cut at a speed of 15, power 100 and corner power 60 to get a consistently successful cut on properly prepared cooked sheets. These settings are of course dependent on the laser cutter you are using.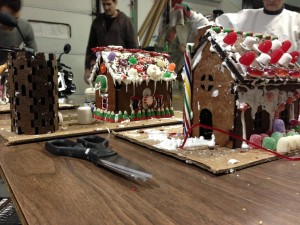 There are plenty of great hacking opportunities when decorating with candy. Licorice shingles, candy cane trees, marshmallow snowmen, life saver wreaths, gummy windows and more limited only by your imagination and the physics of gingerbread, candy and frosting.
The recipes we used are:
Aunt Judy's Gingerbread
4 cups flour
1 1/2 cups vegetable shortening
1 teaspoon nutmeg
1 teaspoon salt
1 teaspoon baking soda
1 tablespoon ginger
1 cup molasses
1 cup sugar
4 tablespoons water
Bake at 325 for 12 minutes or until done
To prepare this for laser cutting, it is rolled to 1/8″ thick 11″x17″ sheets using 1/8″ round rods to ensure the roll is consistent. You might need to improvise a longer rolling pin. We rolled the dough on parchment paper and transferred the uncooked and cooked gingerbread on the parchment. This kept the dough from sticking. Make sure your rolling surface and cooling surface are flat. The baking time is shorter for a somewhat softer gingerbread.
Gingerbread House Frosting
1 pound powdered sugar
3 tablespoons meringue powder
6 tablespoons water
Mix all and beat until thick with rotary beater. Add drops of water to desired consistency. Forming the structure requires thinner frosting. When attaching the candy, a thicker frosting prevents sliding pieces. Icicles need thinner consistency to drop off edges. In the Madison area, meringue powder can be found at Michael's and Vanilla Bean.
Things that worked well:
* Testing the designs in cardboard first was a must and gave the kids something to play with so they could get a sense of how to assemble their structures before working with the more-fragile gingerbread. Even 3/16″ cardboard cut nicely
* The laser generally cut through the gingerbread well, although more moist and thick gingerbread sheets did not work. There is a distinctive smell that is not exactly pleasant.
* We cut cardboard bases with tabs for the gingerbread slots in the bottom of the walls. This made the designs much more stable and portable when the kids took them home.
Things that did not work well:
* If the gingerbread was moist or too thick, it definitely hampered both the cutting process and the assembly process. With thick dough, tabs would not fit into slots, and with moist dough drooping made the structures unworkable.
* The cut gingerbread has a charcoal smell that sticks with it for days afterward. I'd recommend airing the completed houses out for a while outside if possible.
Things that I might try differently next time:
* Using a pasta roller or slab roller to get a more consistent starting roll.
* 11″x17″ is about the biggest practical gingerbread sheet to work with. I'd make the designs for 10″x16″ to give a little more breathing room on the cooked sheets. Broken corners made whole sheets unusable because the tolerances were so tight. A smaller design would let us crank out more cottages more quickly.
* Re-roll the dough to 3/16″ after taking it out of the oven to make the thickness much more consistent for the laser cut.
* Instructions or details could be etched into the gingerbread.
Now that the basic process has proven successful, we have big plans for next year. Imagine gingerbread flying buttresses, a complete village and moving trains!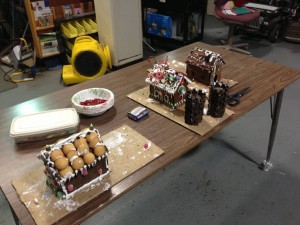 The gingerbread laser cut source files for the cottage, a barn with a silo and a castle are available at:
http://www.thingiverse.com/thing:38422