There was a strong turn out for June's monthly meeting with 42 people in attendance. The evening started out with demonstration of the transit of Venus (as covered by Hackaday). If you're clever enough you don't need to fork out a lot of money on fancy equipment, just a telescope, a funnel, acetate and a cardboard box. The homemade contraption provided the entire image of the sun along with a clear view of Venus.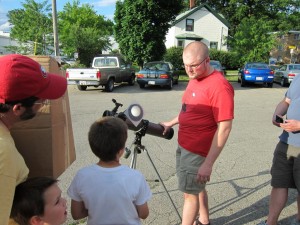 Steve's presentation on 3D printing wasn't actually about 3D printing, it was an idea for a website, buildbin.com. This website would be a public queue where people could list things they needed built, 3D printed, knitted, etc. and then in an auction like system people could bid to complete the project, uniting people with ideas to those with the skills and abilities.
Mike presented a binary clock he had made using KiCAD, an open source alternative to EagleCAD.  The clock uses three rings of LEDs to indicate time, counting in binary around the face.  He spent time correcting for LED color brightness variation by using a constant current driver as well as varying PWM intensity making for a cool looking clock!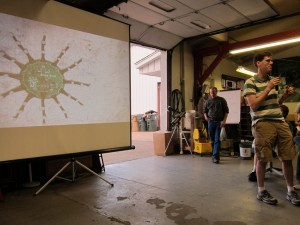 Eric's project was a solution to a problem with his cats that most people who have older siblings can relate to, one cat was eating more than his fair share of the food. To solve this issue he created a cat feeder that used old CD-ROM drive doors, Arduino shields and RFID card reader. Each cat had a card attached to it's collar when it approached the machine it would open if it was the correct cat and feed it the correct amount or it would close the door if the wrong cat approached.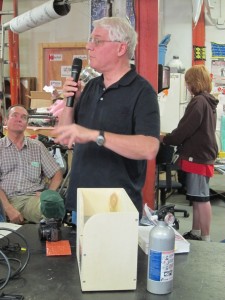 Bob, who is back from China demonstrated his portable scoreboard along with it's new features. The updated scoreboard featured a sportier look, a buzzer, different modes such as clock up and clock down and bluetooth so it can be controlled from a phone. In two weeks Bob will be going to a demo day in San Francisco to present his scoreboard for investors.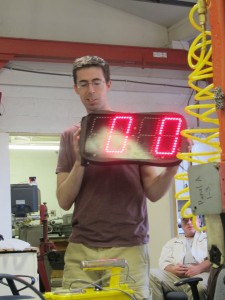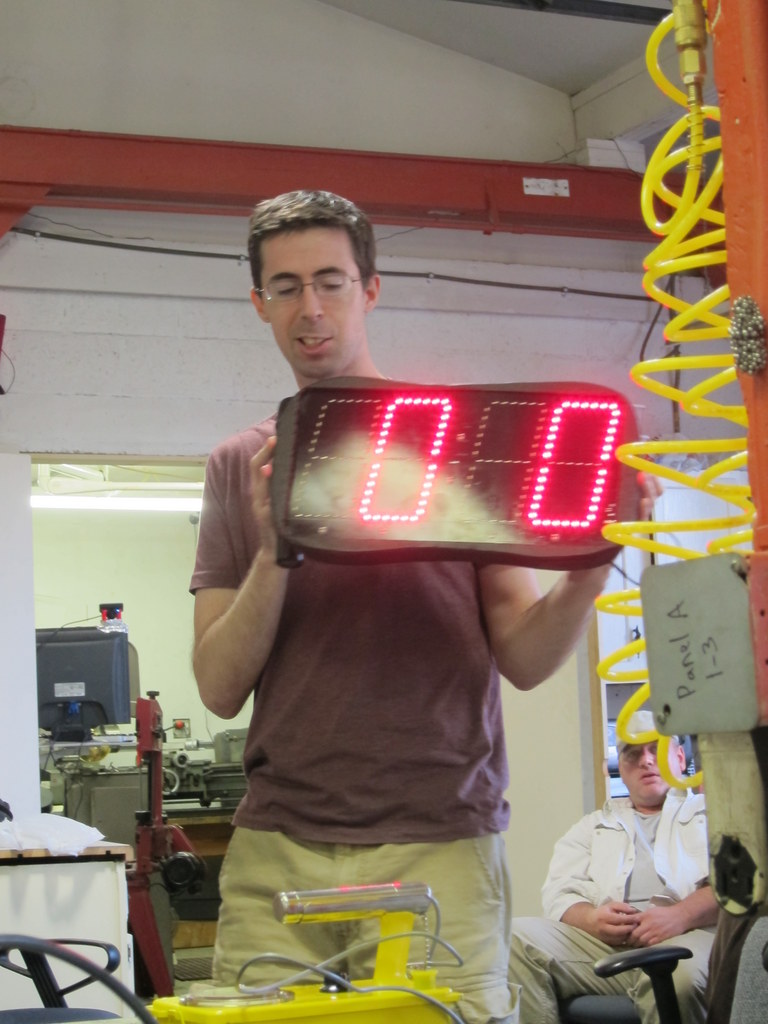 Carl stopped by the meeting to thank Sector67 for all their help with the after school class he teaches on inventions at Lowell Elementary School. Kids got a hands on experience learning about circuitry along with other topics.
Anyone who has seen a personalized ad or pop up on the internet knows that privacy and protecting personal information is no longer just a concern for paranoid conspiracy theorists. There are plenty of 3rd parties who collect information about what you look at on the internet and sell it. Avoiding these 3rd parties and keep your information private is the goal of the Freedom Box Project, which Nick Daley is working on. Freedom Box Project is working to create private browsing and communication using Raspberry Pis where you control which ones you want to talk to. A beta for Freedom Box is planned to be released within 6 months.
The evening wrapped up with some demos. The first vacuum forming, demonstrating how the machine works and how you can make personalized a variety of things from candy trays to custom tool cases, gift ideas are endless. The second demo was visualizing radiation using a cloud chamber.
Unlike Venus, you don't need to wait until 2117 for more updates on projects and ideas, the next meeting is the first Tuesday of July.