Today we were greeted by soldering irons and assorted soldering tools from MPJA and Circuit Specialists. Why two companies and a variety of irons? Testing of course!
We're hosting our first ever soldering session with the infamous Mitch Altman, there is no way all of the eggs are going in one basket. We're also curious to see how the 40W versus 30W versus temperature controlled irons pan out, especially against the $300 rework station. . .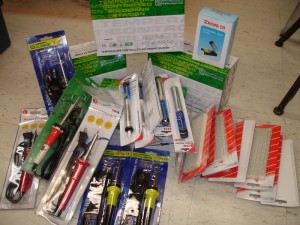 Our first resellers order with Adafruit was also placed today, we had no problem clearing the $250 minimum order with 10 Boarduinos for BarCampMadison!